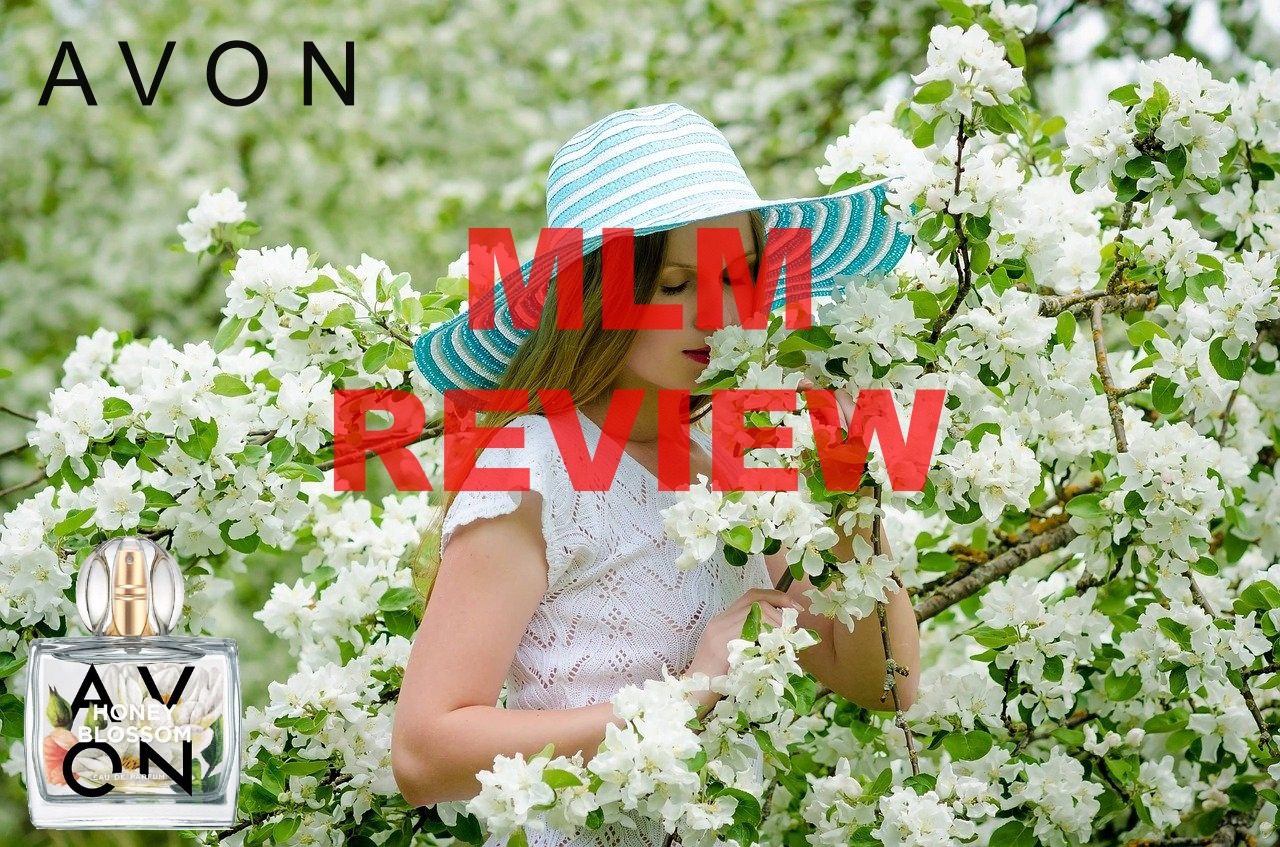 Welcome to this Avon MLM Review.
Ding-dong, Avon calling…If you are old enough, like me, then you will remember the tv adds.
A business that everybody will have heard of or come across at some point in their lives. Maybe even used some of their products as they are not that bad either.
What springs to mind when you hear the word, Avon?
If you are like many, a beautiful woman dressed to the nines, knocking on doors handing out brochures that they will come back and collect later.
Avon is one of the oldest and most successful multi-level-marketing business in existence, with a lifespan of over 130 years and only 2nd to Amway on a financial scale.
In 2019 alone they brought in revenues of around $5 billion worldwide and if you are doing those figures then Avon must be doing something right.
Rest assured I am not here to hand out catalogues, sell you their fragrances or even their business opportunity, but I am here to address what Avon is about as a company and to give you the facts.
Impressive sales figures are just that. What you need to know is how they arrive at those figures and whether there is a business opportunity there for you.
Well, less of the small talk, grab yourself a coffee and let's get into this Avon review.
---
[Affiliate Disclosure: This post may contain affiliate links which means I may earn a small commission if you purchase anything through one of the links. However, this will not affect what you pay!]
---

Product: Avon
Location:  London, UK
Founder: David H McConnell
Founded: 1886
Website: www.avon.com
Product Description: Women's fragrances, makeup, men's aftershaves and household products.
Cost to join: $30
Price of products: $2-$350
Best For: Experienced network marketers who love cosmetics and enjoy organizing parties.
Recommended: Not recommended for newbies who are looking to learn how to make a living online.
---
Internal Summary and Navigation
---
What is Avon about and who are the founders?
Avon is a multi-level-marketing company
manufacturing and selling women's cosmetics, perfume, clothing, and household goods, not forgetting Men's fragrances too.
Headquarters are in London, UK.
A visionary of the founder David H McConnell who all those years back in 1886 (only 21 years after the Civil War had ended), when at the time women were not recognized as equals and many years before the law was changed to adopt women's rights.
David was a travelling salesman selling books who offered free beauty products as gifts, but very quickly realized that the customers were more interested in the beauty products than the books.
He, therefore, set about creating his own fragrances in a New York City office along with recruiting women sales representatives to sell those products on the street.
It's no secret that Avon parted ways with the DSA (Direct selling association) in 2014 after many years as a member.
Experts agree that the decision to distance themselves was made because of other DSA members accused of treading into pyramid scheme territory.
In January 2020 the Brazilian company Natur & Co, the owners of a very well known brand "The Body Shop",  became a 75% stakeholder in Avon.
Avon is the 2nd largest direct selling business and the 14th largest beauty business with competitors such as O'Boticario, L'Oreal, and Estee Lauder amongst others.
With close to $5 billion in sales yearly, across 100+ countries and with near to 7 million representatives.
Avon certainly are here for the long haul!
Check out this short promotional video.
Giving back is always a good thing
In 1955, "The Avon Foundation for Women" was founded which tackles "what matters most to women" to help build better futures, in giving support to charitable organisations that improve the lives of women and their families.
---
The charity "The Avon Breast Cancer Crusade" was founded in 1992, and have contributed over $800 million to this very worthy cause.
Education for millions of women on breast cancer awareness and funded around 20 million examinations.
---
In 2004, Avon teamed up with "Feed The Children" and in the last 6 months from Jan 2020 have donated over $40 million.
---
Is Avon a Pyramid Scheme?
A pyramid scheme is a business model where the sponsor or recruiter gets paid for recruiting others and often many hide behind products that really have no real worth.
It's those products that come under question, which has to be a product that is a genuine one that people want and not some re-packaged product that costs nothing and as no value.
As a result, many multi-level-marketing businesses tend to be put under the spotlight due to a very fine line they tread.
However, here we have a well-known brand that has been around for well over 100 years and has over 100 products and the feedback they get is always positive, and therefore we can safely state that Avon is not a pyramid scheme.
---
Let's look at Avon products range
Avon originally started life as a fragrance company but to compete with the big boys had to expand their product range and whilst doing so have managed to keep the products down to cater to peoples budgets.
Whilst the only way to purchase Avon products used to be through an Avon representative nowadays you can purchase the products directly from their website but at a cost.
In fact, that cost difference can be as much 50% so it pays to check out an Avon representative first.
---
Avon most popular product range
Glimmer Sticks
Wash off Waterproof Mascara
Magix Tint
Avon True Colour Lipstick
Anew Clinical Eye Lift PRO Dual Eye System
Anew Ultimate Multi-Performance Day Cream SPF 25
Anew Ultimate Multi-Performance Night Cream
Hydra Fusion 1.5% Hyaluronic Acid Serum
Skin So Soft Bonus-Size Original Bath Oil
Bug Guard Plus IR3535 Expedition Family Size Pump Spray SPF30
---
The Avon product range can be found within the categories listed below…
Bath and Body
Bath and Shower
Foot Care
Hair Care
Insect Repellants
Oral Care
Sun Care
Causes
Support Pink Hope
Breast Cancer Crusade
Feed The Children
Fashion
Fragrance
Body Lotion
Body Sprays
Candles
Deodorant
Men's
Perfume
Shower Gel
Travel Sizes
Good Buys
Fashion
Fragrance
Home
Jewellery
Kids
Makeup
Skincare
Hair Care
Conditioner
Hair Colour
Shampoo
Styling Tools
Treatments
Wellness
Boost
Espira
Glow
Restore
Retune
Jewellery
Bracelets
Earrings
Fashion Jewellery
Fine Jewellery
Men's
Necklaces
Pendants
Rings
Spiritual Jewellery
Watches
Makeup
Eyes
Face
Lips Nails
Tools and Brushes
Men
Fragrance
Grooming
Jewellery and Watches
New and Now
Bath and Body
Health and Wellness
Home
Jewellery
Makeup
Men
Self Care
Skin Care
Self Care
At Home Leisurewear
Beauty Self Care
Body Defense Faves
Shield Yourself
Skin Care
Cleansers and Toners
Eye Care
Moisturizers
Scrubs and Masks
Serums
Travel Sizes
Treatments
Face Shop
Over the years Avon as really expanded the brand and I am no woman but it looks like they have covered every beauty angle, but what tends to happen here with so many products is the quality often diminishes.
---
For a closer look at the Avon products range with current prices…
You can check out the full Avon product range for a better description and current prices here.
---
Avon Business Opportunity – What you need to know
When you think of where Avon has come from to where they are today and only 21 years after the civil war ended.
It feels like the beauty industry started with Avon and you have to give them credit for riding through all the storms and financial crashes.
Avon does seem to have escaped investigations by the likes of the FTC, fines and lawsuits so when it comes to respect, they have mine.
Products are great, but what about the business opportunity?
---
How to become an Avon Representative
That's pretty straightforward.
Just signup for the Bestsellers Starter Kit for $30
Quite a good deal because what you get are full-size Avon products to the value of $107.
Includes…
Avon True Color Love at 1st Lash Mascara (in Blackest Black).
Anew Vitamin C Brightening Serum.
Avon True Color Eye Shadow Quad (in Mocha Latte).
Magix Prime Face Perfector SPF 20.
Flourish Honey Blossom Eau De Parfum.
11 Avon catalogs for you to promote your business.
What comes with your starter kit is all the tools to get your business off the ground.
Your own personalized website.
A mobile app so you can run your business on the move.
Marketing tools.
Online training courses to get you up to speed.
Access to the Avon community.
Customer support.
Big discounts on a wide variety of services.
---
How to Make Money With Avon
The 3 main ways of earning yourself a little money…
Purchase the products yourself and take advantage of the discounts for yourself, family and friends.
Find customers and sell the products to them.
Create yourself a team by recruiting others, this way when they sell the products you will make a commission.
Many are happy just to go with option 1, which is great because there is no pressure from Avon to do otherwise.
Of, course if you were really into Avon for the long haul and wanted to make this business work, then you would have to expand your marketing.
Some marketing ideas might be…
Social media like Instagram, Facebook, Twitter, YouTube etc…
Email marketing.
Online Avon parties.
Go to events and set up a stall.
You could host a fundraiser.
Get yourself some premises like a shop which is quite common now.
Create your own personal website dedicated to Avon products, this way you can get your site in front of the  7+ billion people searching in Google on a daily basis. Guess what this type of marketing would cost you nothing.
Just a few ideas, but you are only limited by your imagination and of course your time.
---
Here you can check out the Avon Compensation Plan for yourself
---
Are Avon Consultants actually making money?
Well, the very top 1% is where most of the money is made and to get to that level is going to take a lot of hard work.
This is where your "Sales Skills" are going to come into play because if you want to be right up there earning the big bucks then building a team and a big team is going to be required.
But, the most important thing here is that you will have to train and nurture your team to ensure they don't leave.
Many as I have mentioned just start Avon as a hobby and see where it takes them.
---
What others say about Avon
OK, this should be everybody's first port of call when researching anything no matter what it is.
It can take a few seconds to determine who the scammers are and save you a fortune in the long run.
Check for validity.
Reviews on the companies website should be excluded because you ain't going to find any negative reviews there.
Anyway, I thought I'd dig out a mix.
---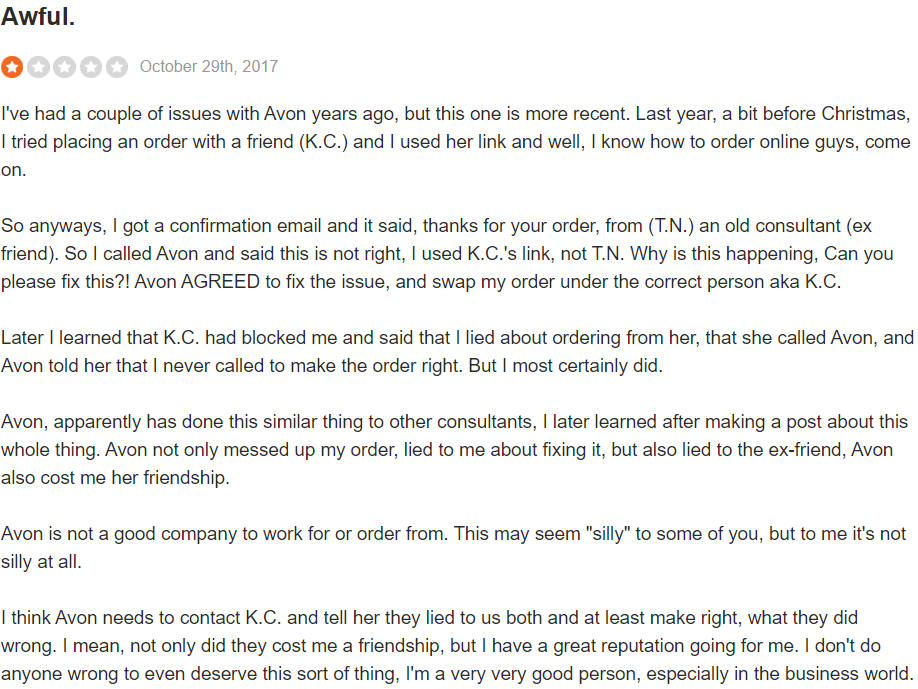 ---
What I like about Avon
Accredited with the Better Business Bureau.
I think you'll agree that any business like Avon which has been around for over 130 must know what it takes to run a successful business.
Products are not expensive and within everyone's budget.
To become an Avon representative does not cost the earth.
Commissions can be as high as 50% and a bonus of $500 comes your way when you invite 3 to become part of your team.
Not an employee but a representative and therefore in control of your work schedule.
Perfumes and aftershaves are quite good for the amount you pay.
---
What I don't like about Avon
Due to Avon been around for nearly 140 years, this would probably mean you are going to find many Avon representatives in your local area, which means more competition.
If you are hoping to make this Avon business a replacement to your day job, you are going to have to recruit a big enough team and ensure you guide and train them to stop them leaving.
Not only are you competing with Avon representatives in your local area but you are also competing with Amazon which is not good in my eyes.
Delivery doesn't appear to be able to keep up with demand.
For a company that has been around for over 130 years, I find it strange that I can't find an income disclosure.
---
Is Avon a SCAM?
For anyone looking for a reputable MLM, you can't go far wrong with Avon for credibility.
They appear to have been around forever and their product range is always expanding, and with new owners then it looks like Avon is going to be around for the foreseeable future.
My wife and my family have used Avon products for a number of years now so I guess the products must be good.
One of the oldest companies and only 2nd to Amway as the most successful MLM.
A brand that is known throughout the world.
The people I know who have been Avon representatives for many years do it more as a hobby.
So, in answer to the question, no Avon certainly isn't a scam.
---
Is Avon a Worthy Business to get involved with?
Many Avon representatives become involved because they love the products and are happy with making just a little extra cash to make ends meet.
Well for most it starts off as a hobby.
Avon is not like many MLMs that come with a load of baggage and do appear to be well received as far as an MLM business goes.
If you are looking to replace an existing income then be prepared to work your socks off because it is not going to be easy.
I have tried several MLMs and made absolutely zilch so I do have experience in that area.
If you are seriously looking for a business then I would recommend looking at the affiliate marketing route.
Not  restricted to a certain product
No purchasing of products
Order management, shipping, returns handled for you
No recruiting
No team training
Minimum costs
Zero marketing costs
No overheads
No pressure to maintain a status level
100% FREE and NO CREDIT CARD details asked for

---
Feedback, Comments and Subscribe
Anyway, I hope you enjoyed the review and that I covered all the important areas, but if I missed anything out please don't hesitate to put down your thoughts in the comments section below.
If you've had any bad or good experiences with MLM type businesses in the past then why not share this amongst my readers.
If you enjoyed this Avon MLM review then why not show a little love by spreading the word in social media.
Until next time, stay safe