Hey Guys, so What is The SMA Blueprint?
If you are looking for an unbiased, honest review then look no further because this is the only one you will need.
I'm sure you have done the rounds trying to research The SMMA Blueprint but the problem you are going to find.
Is that most of the SSMA Blueprint reviews are biased and from affiliates just trying to make a commission from making a sale?
That's why it's so important to research thoroughly to avoid scams and only find legit make-money opportunities.
But, before we jump in we'd just like to declare that we aren't associated with The SMMA Blueprint in any way.
That said, let's get started.
---
[Affiliate Disclosure:  The SMMA Blueprint Review has been thoroughly researched from information and testimonials that are in the public domain. This post may contain affiliate links which means we may earn a small commission, however, this won't affect what you pay!] 
---
Product: The SMMA Blueprint
Founder: David Schlais and Derek DeMike
Website: www.thesmmablueprint.com
Product Description: Course teaching you how to start a social media marketing agency.
Cost to join: $749
Recommended: Maybe
Summary: SMMA or social media marketing agency is a legit way of making money online.
Some say it's the quickest method to make money, but nothing is quick when it comes to making money online.
Unless you are prepared to work hard and put in the time and effort and above all, be patient.
One thing you will have to do with an SMMA business is to come out of your comfort zone because it is all about confidence and selling yourself.
Which incidentally not many are good at, but in time you will overcome those fears and that is what this course hopes to achieve.
The SMMA Blueprint Review – TOC
What is The SMMA Blueprint About?
The SMMA Blueprint is a training course that teaches anybody how to go about starting their own business as an agency owner.
This is your ticket to becoming a successful 6-figure agency owner.
The course came onto the scene in 2019 by 2 friends who had had enough of the corporate world and very quickly made a name for themselves.
Here they are passing on their knowledge to anybody who has the drive and dedication to succeed in this business.
Here's a video presented by them discussing the SSMA Blueprint and the success that a current member is having.
Related Review: Affluent Academy
Who Are The Founders of The SMMA Blueprint?
David Schlais and Derek DeMike are the co-founders of the SMMA Blueprint.
They both come from similar backgrounds working for employment agencies and finding jobs as executives.
After years of trying to make the internet work for themselves and failing, they decided.
To get together and create a social media marketing agency, seemed the obvious choice as they both had experience in this area.
Within the first 2 weeks, they had found their first client which paid them $2750 a month and they haven't looked back since.
Derek is the founder of another lead generation company, Vital Traffic Labs which came about in 2016 and claims to be earning around $500,000 a year.
They both have a Youtube channel with over 100 videos giving out free stuff which we recommend looking at.
Besides, it will give you a better idea of who they are and what they are about which is always a good thing, right?
One thing we did notice was that they are not your typical internet gurus.
Bragging about their wealth and showing off their rented mansions and sports cars, which seems promising.
However, don't get your card details out just yet.
Related Review: SMMA Boss
What do You Get When You Join The SMMA Blueprint?
The SMMA Blueprint course comes with over 100 videos and lessons across 9 modules which we have highlighted for you below.
Module #1 – Getting Started
This module is just an introduction to what The SMMA Blueprint is and what it can do for you.
You will also get to know who Derek and David are and their backgrounds.
As well as a glimpse into how they achieved a $50k a month SMMA business plus access to their private Facebook group.
Module #2 – What is Involved in Starting and Running your own Agency
You will learn in this module what it takes to run a successful SMMA business.
Topics covered are the methodology behind SSMA Blueprint, startup checklists, websites, banking, cash flow, branding, legal agreement plus much more.
Module #3 – Finding Clients
Covered in this module is everything you'd need to know about finding your clients and signing them up.
Find out about niches and which ones are profitable, create emails, cold-calling, meet the clients and what it takes to secure a contract.
This is all about selling yourself which is probably the most important module in this course.
Module #4 – Fullfiling Service
This module is devoted to how and what to do to find those customers for your clients.
This is all about creating ad campaigns that cover Facebook, Google, and Bing as well as Youtube ads and Snapchat.
How to leverage social media and use forums like Reddit and Quora.
Module #5 – Scaling your SMMA Business
Once your ad campaigns are finely tuned and working then you need to scale up and get the most out of them.
In this module, they will take an in-depth look at some case studies, and how and when to outsource.
Partnerships with other agencies and growing your network.
Module #6 – Bonus Modules
How to use Linkedin to find local clients.
Module #7 – Highticket Linkedin, Getting Started
A look at who Derek and David are, learning the business growth mindset.
Included in this module are Linkedin scripts to make it easy to launch your Linkedin business profile.
Module #8 – Highticket Linkedin, Setting Yourself up for Success
This module covers everything you would need to know about Linkedin and creating your own network.
Module #9 – Highticket Linkedin, Automation
This module covers automating the whole process and outsourcing and finding a virtual assistant.
Bonus
You'll get access to all live streams and the question & answer sessions to see what others are doing

 Funnels, legal agreements, guides, checklists, scripts and more

You will even get a conference call from Derek.
Related Review: 30-Day SMMA
What do They Teach at The SMMA Blueprint?
The course teaches you how to create an online business in social media marketing.
So what is a social media marketing agency?
It's pretty straightforward really, it's all about helping small businesses increase revenue by finding customers.
Now SMMA or social media marketing came onto the scene, really in about 2015-16.
That's when everybody was getting into it.
However, we are not saying that this business model has had its day because it hasn't, there are still 1000s of new businesses starting up every day.
Mind you a lot of these businesses won't even have their own websites which in this day and age is a must.
Whilst becoming an SMMA business sounds lucrative on paper there is a lot to learn and not for everybody.
You will need to know things like…
What niches are and which ones to choose
Websites and how to create them
Paid marketing, Google, Bing, YouTube, Instagram…
Social media, Facebook, Twitter, Youtube, Snapchat, Instagram…
Communicating with prospective clients
Keyword research
Plus so much more…
All this and more is included with the course and it comes with a learning curve and will take time.
A lot of hard work, dedication and above all patience.
Related Review: Rank Daddy
Is The SMMA Blueprint a Scam?
We wouldn't call The SMMA Blueprint a scam,
far from it as it is a legit way of making money online.
With times that are always changing, there are always going to be struggling businesses that need your help.
The one thing to be aware of is that many businesses will have been burnt in the past.
With people taking crash courses and setting themselves up as experts.
If you can't produce the goods just think how long it is going to take before many businesses local to you are going to find out.
The point I am making here is that you have to go into any business with the right intentions and whilst the money could be good.
It isn't always about the money which most will disagree with me on.
It should be about you helping someone to succeed and if you can do this then the money will come naturally.
However, if The SMMA Blueprint is a little pricey or not for you then why not take a look at the link below which might be of interest to you?

What we Like About The SMMA Blueprint
The SMMA Blueprint training course has

a lot going for it and we've managed to highlight what we thought were the main points.
The course we found to be very comprehensive: There is a lot of value within this course and even if you come with experience.
We still think that you would benefit from some of the training.
It's a legit business model: That has been around for a while and is still very popular no matter what other people tell you.
People are always going to need help with improving sales and many will not even have thought about finding an SMMA.
We found the cost to be reasonably priced: Whilst many will say the opposite because people just want something for nothing.
You are always going to have to pay for a quality course and whilst you can find a lot of free stuff online.
The important stuff tends to be left out.
This business can be run anywhere: All you need is an internet connection and a mobile device.
What we Don't Like About The SMMA Blueprint
If we had to criticise the SMMA Blueprint it

would have to be because of a lack of reviews external to the SMMA Blueprint website.
Now a lot of people would not consider this an issue but if you think about it.
The course administrators are not going to allow anything negative about the course on their website.
The SMMA Blueprint Review – Final Thoughts!
The SMMA Blueprint has a lot of possibilities and is laid out in a format that should be easy to follow.
The course covers everything you need to know about starting, running and growing a digital agency.
It is one of the most lucrative business models out there providing you adopt the right attitude and treat it as a proper business.
The course creators come across as decent guys who know their stuff.
Here's another SMMA course that you might like to take a look at, it's called Affluent Academy.
However, if starting and running your own social media marketing agency doesn't appeal to you after you have read this review.
Then you might like to take a look at what we have to offer in the next section.
Is There an Alternative Solution For Making Money Online?
We do like the SMMA business model however we found that affiliate marketing was the right fit for us and it can be for you too.
Wealthy Affiliate is a training platform that combines all of what you can learn in the SMMA Blueprint and a lot more.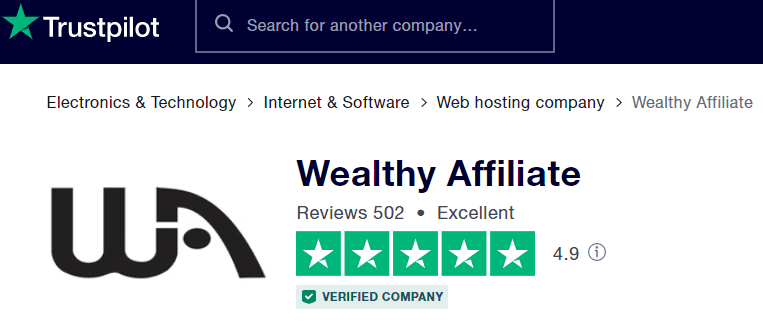 As you can see by the image above an excellent rating which you can check out the reviews here.
If this is something that might interest you, take a look and see what you think and as it won't cost you anything look what you have to lose.

The SMMA Blueprint FAQs
Is The SMMA Blueprint worth the $749?
The course is pretty comprehensive and for what you get we don't think the course is overpriced.
However, we can't find any reviews from members who are having success other than the ones on the SMMA Blueprint website.
This is a concern as the only reviews are on the website which are all going to be biassed.
Are there other methods of paying for the course?
If you can't afford the full course amount then yes there is.
David and Derek have teamed up with Paypal where you can get credit if you do not have the funds to pay for this course.
Interest-free financing if the full amount is paid within 6 months.
Does The SMMA Blueprint come with a full refund policy?
If you are not satisfied and have watched less than 20% of the course then there is a 14-day 100% money-back guarantee.
Are Derek and David legit and Trustworthy?
We have no reason to suggest they aren't and we know that external reviews are important to making the final decision.
You can check out the reviews on the website but these aren't really going to be unbiased now are there?
Who is this course for?
It's pretty much for anybody from a complete beginner with no marketing skills through to existing agency owners.
Having said that there is a lot to learn and maybe this type, of course, would be too in-depth for a complete beginner.
Is there a better alternative that you could suggest
If it's costs that are holding you back, then you could take a look at e-learning sites like Udemy.
Where you are bound to find a similar course for a fraction of the cost.
Or, you could take a look at this affiliate marketing course here.
Related Review: Bossless Forever
Feedback, Comments and Subscribe
Ok, Guys, we hope you enjoyed the SMMA Blueprint review and that we answered most if not all of your queries.
If there is anything we have missed or left out, or you'd like to add something then please feel free to add your question in the comments section.
Maybe you have experience of this course in which we'd love to hear about how you got on.
Thank you for reading and stay safe!