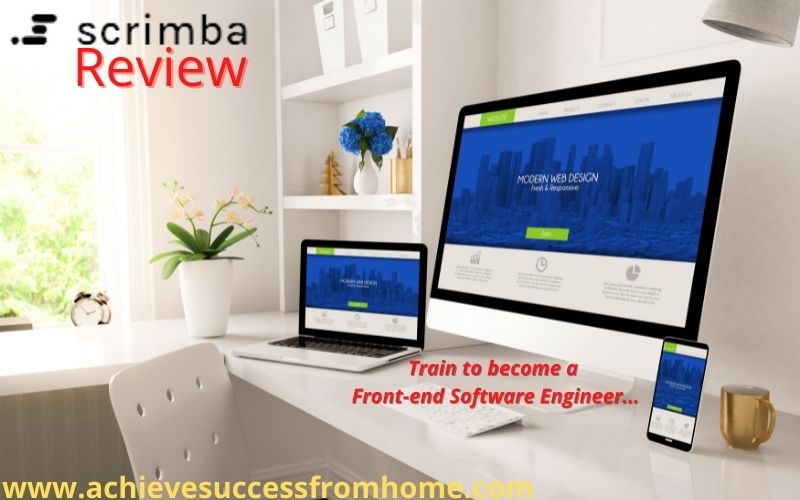 Hey Guys, welcome to this website.
Today we are going to be looking at What is Scrimba?
A training platform that is relatively new but already making a big impact in bridging the tech employment gap.
A company that could save you thousands but we'll be discussing that amongst a whole bunch of other stuff, so stay with us.
This Scrimba review has been on our list of things to do and thought it was about time we took a look.
Before we do though, we'd just like to mention that we are not affiliated with Scrimba in any way.
That means we are not getting paid for this Scrimba review, but what we do promise you is an honest account of what Scrimba is all about.
That way you can decide whether to pursue Scrimba further or not.
With that said, let's get started.
---
[Affiliate Disclosure: This Scrimba Review has been thoroughly researched from information and testimonials that are in the public domain. This post may contain affiliate links which means we may earn a small commission, however, this won't affect what you pay!
---

Product: Scrimba
Founder: SindreAarsæther, Per Harald Borgen, Frode Jensen
Website: www.scrimba.com
Product Description: Online It training platform
Cost of training: $20/month
Recommended: Yes
Summary: Scrimba is for anyone who wants to take their web development skills to the next level.
Without having to pay out thousands of dollars.
Front-end Software Engineers are in demand but nowhere near as in-demand as Full-stack Software Engineers.
Now, why did I show you that comparison?
In the near future, Scrimba are going to provide Back-end training that combined with the Front-end'
Will give you the skills of a Full-stack Software Engineer where the jobs and the money are.

Scrimba Review – Table Of Contents
What is Scrimba?
Scrimba is an online training platform for people who have a passion for computer programming.
Founded in 2018 by SindreAarsæther, Per Harald Borgen and Frode Jensen and based in Norway.
They provide over 60 courses all related to front-end development, that's anything related to web development.
Teaching computer languages like HTML, CSS, React, JavaScript, Python plus a hell of a lot more…
You can create a FREE membership that will give you access to 28 FREE courses.
There are future plans at Scrimba to add courses to teach you about back-end processing which is primarily where the data is stored.
That would give you the ability to become a Full-Stack Software Engineer.
This all comes to you at a cost that is affordable for everyone.
What do they teach at Scrimba?
The courses available at Scrimba cover a wide area of computer programming skills.
Such as Typescript, Python, UI, SQL, HTML, CSS, JavaScript, jQuery…
You can check out the full curriculum here.
But if you don't know which skills are required to become a Frontend Software Engineer.
Then we'd suggest you take the Frontend Developer Career Path which includes 75 hours of content and hundreds of coding exercises.
This Srimber Bootcamp comes with 13 modules…
Module #1 – An introduction to the career path
Module #2 – HTML and CSS basics
Module #3 – Building websites and making them interactive
Module #4 – CSS and JavaScript fundamentals
Module #5 – Responsive website design
Module #6 – Intermediate JavaScript
Module #7 – APIs
Module #8 – Using Flexbox and Grid to build apps
Module #9 – User interface design
Module #10 – Learning Git
Module #11 – Learn React, the JavaScript library
Module #12 – Advanced React
Module #13 – How to get hired
For a more detailed explanation, you can find it here.
What you can expect to learn on this Scriba Bootcamp…
HTML, CSS, JavaScript, React, APIs, Web architecture, Responsive design, Web design, UI, GIT, GitHub, Coding challenges…
As part of this course, you will use JavaScript to create games and apps like Blackjack, Dice game, Pac-man…
What are Scrims?
Scrims at Scrimba is their way of giving the coder an editable video screen that will allow you to look at the changes when they are made.
This is a unique online learning platform where the coder is in full control and can test the code as they go along.
Scrims are an exceptional way to learn a programming language and coming from software development is a great way to learn how to code.
You can see the code in real-time which makes it a lot easier to understand.
Click on the image below for a demo.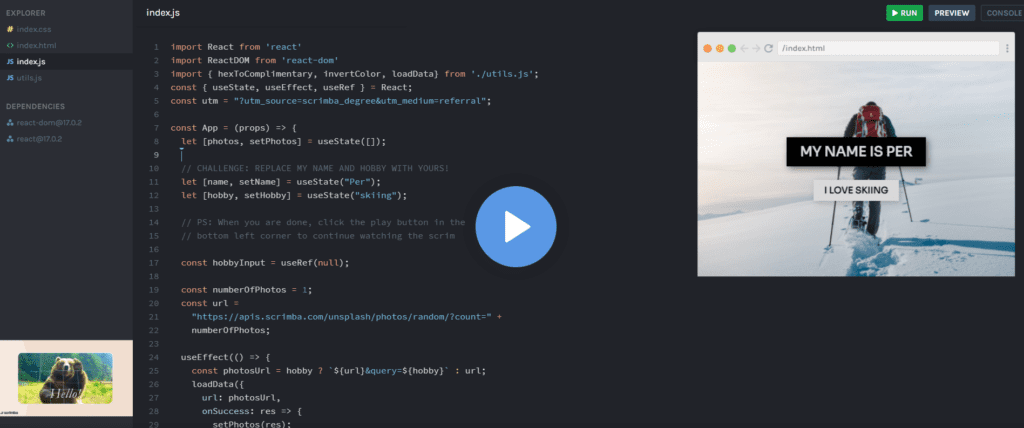 Who is Scrimba For?
Scrimba is for anyone who has an interest in computer programming and enjoys challenges and building things.
Ideal for people who are already in IT roles and want to advance their careers.
When Scrimba eventually adds the Back-end course, that will allow anybody to become a Full-stack Software Engineer.
That will be a massive jump in the number of jobs that are out there.
How much does it cost to join Scrimba? 
Scrimba is a membership site that has 3 levels of membership.
Free for people who want to get a feel for what programming is with 28 courses that are currently available.
They even teach Python which is the #1 programming language.
The PRO development membership is for people who want to learn a programming skill and eventually become front-end software developers.
This works out at $20/month or you could pay for…
Half-yearly = $72 which is heavily discounted saving you $102
Full-year = $119 that's a saving of $229
Now I don't know about you but we think that less than $10 a month is a remarkable value.
There is another membership which is coming soon.
The third membership will provide you with the same training as the PRO membership.
But is for dedicated groups that want to learn and push themselves.
This comes with a full 30-day money-back guarantee and you can cancel at any time.
Help With Finding A Job
There is help in finding a job for everybody who enrols on the "Front-end Career Path".
The careers module covers…
Getting hired
How to use Linkedin to find that job
Frontend interview tips
JavaScript interview tips
React interview tips
Is Scrimba a Scam?
Scrimba is not a scam but a legit IT training platform that provides the skills to qualify as a Front-end developer.
As we have already mentioned jobs for Front-end developers are a little thin on the ground.
But with the Back-end course coming shortly this will increase the number of roles exponentially as a Full Stack Software Engineer.
Here are a few other training platforms that you might consider…

Scrimba PROS and CONS
In this section, we have tried to highlight what we think are the important facts that you need to know.
Which should help in deciding whether Scrimba is for you or not.
PROS
Has A Unique Training Platform:
As a software developer myself, I know only too well how difficult it can be to relate programming code to what it is you are actually trying to do.
At Scrimba they use what they call Scrims which are editable screencasts.
That allows you to change the code and see in real-time what it is you are trying to achieve.
We have reviewed many IT training platforms lately and some of the costs for tuition fees can be extremely expensive.
We haven't come across any training platforms where you get so much training for $120 for the year.
Free Courses Are Available:
As of this review, there are 28 free courses that you can take advantage of to see if programming is actually what you would want to do.
The Scrimba community at discord is thriving and extremely helpful.
They have loads of free stuff on their Youtube channel to give you another indication of who Scrimba really is.
Interest From People Is Good:
Since Scrimba came onto the scene in 2018 interest from people searching on Google has been steady.
With additional interest which started around the pandemic on lockdown, I guess.
At a time when most people started looking for work from home opportunities.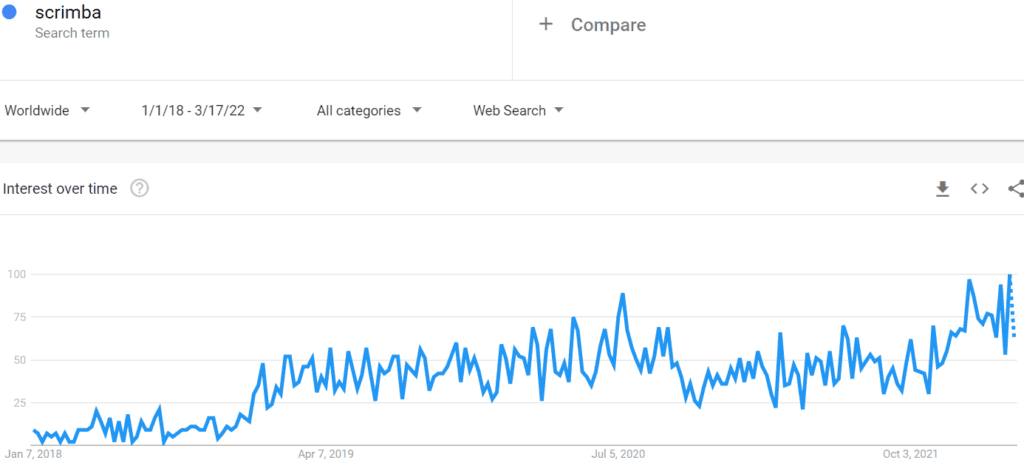 CONS
Front End Developers Are Not Heavily In-Demand:
Whilst there are some high in-demand individual skills that are taught within the Front-end Bootcamp.
The number of jobs for Front-end Developers is not that great.
Well, certainly not as many as Full-stack Software Engineers which will be achievable when Scrimba adds Back-end training to the curriculum.
Scrimba Review – Final Thoughts!
Well, what did you think?
You can see by the feedback that the majority of people are loving Scrimba and the way the training is executed.
Being a software developer was very good for me, especially freelance, which allowed me to travel to other countries and learn about other cultures.
All good things come to an end and for me, it was because I was working away from my family too often.
I wasn't interested in working back in my home country because the rates weren't that great so I decided it was time for a complete change.
One, that I am glad I did, although I sometimes wish I'd done it earlier.
If you want to know what I do now then please continue to read on.
How we make Passive Income Online?
I thought making the break into freelance would give me more freedom, and it does but you are still working for someone else and still the 9-5.
That's why I decided (after a few ups and downs) to learn affiliate marketing.
It allows me to work on my own terms, when I want and where I want.
It is also probably one of the best business models that will allow you to create multiple income streams.
Which becomes passive, which is what everybody would love to be able to do.
Not to mention that once your business is up and running it will generate an income 24/7 with very little intervention.
If you want to know more then check out this Wealthy Affiliate review or click on the link below.
It won't cost you anything to look and there is no commitment required as nobody will be asking for your credit card details.
If you don't like what you see (which we think you will) and it's not for you, then just call it a day but you might be missing out if you don't try.

Feedback, Comments and Subscribe
Hope you guys enjoyed this review and we answered most of your questions.
If you'd like to add anything or would like to ask us anything feel free to drop us a line below.
Once again, thank you and stay