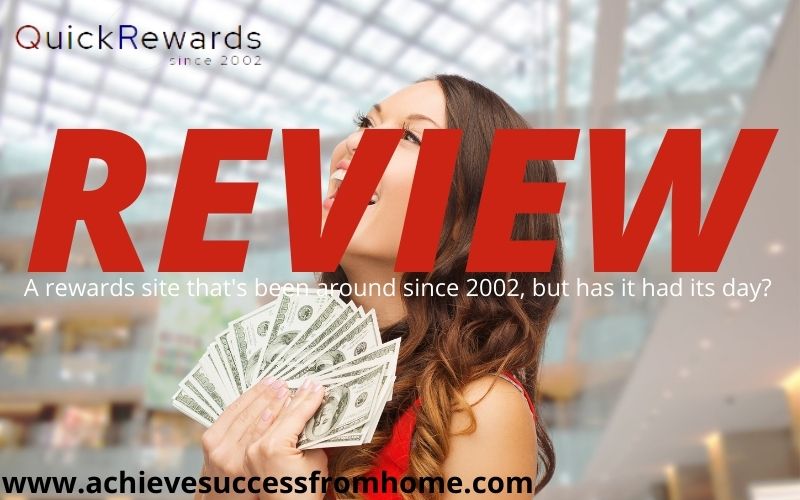 Hi, I'm Mick and welcome to the
QuickRewards review
If you are looking for a side gig where you can earn a few bucks here and there then you are definitely in the right place.
QuickRewards Network is a rewards site that has been on our radar for the past few weeks and on a list of reviews to do, so we thought it was about time we checked them out.
With so many of these reward sites about it is often difficult to find the right one to dedicate your time to.
That's why thorough research is so important to weed out the scams and to find legit opportunities.
Before we get into this review let me make it clear that we are not associated with QuickRewards and you won't find us pitching to you.
What we will promise you is an honest review giving you all the facts so that you can decide whether or not to join QuickRewards or not.
Is QuickRewards a scam? Is QuickRewards Legit?
All will be revealed, so without further ado let's find out!
---
[Affiliate Disclosure: This post may contain affiliate links which means I may earn a small commission if you purchase anything through one of the links. However, this will not affect what you pay!]
---
Product: QuickRewards Network
Founder: Dmitry Beker
Product Description: Market research, surveys
Website: www.quickrewards.net
Price of product: Free to join
Recommended: No
Summary: Online rewards and dedicated survey sites have never been a favourite of ours but we know they can help out people no matter how small the amounts are.
We understand that a few bucks here and there can be a godsend for many people especially those coming from underdeveloped countries.
QuickRewards has been around the block a few times and one of the longest-running reward sites that we have reviewed.
But that doesn't necessarily mean they are worth dedicating your time to.
If earning just a few bucks is ok with you then that is ok with us but if you really want to make a big impact on your life…

---
If you are sick and tired of SCAMS, Pyramid schemes, MLMs, recruiting, having to purchase stocks, haggling family, friends and customers. Looking for a proven method of making money online, then check out my #1 recommendation. 
---
Internal Summary and Navigation
---
What is QuickRewards about and who are the Founders?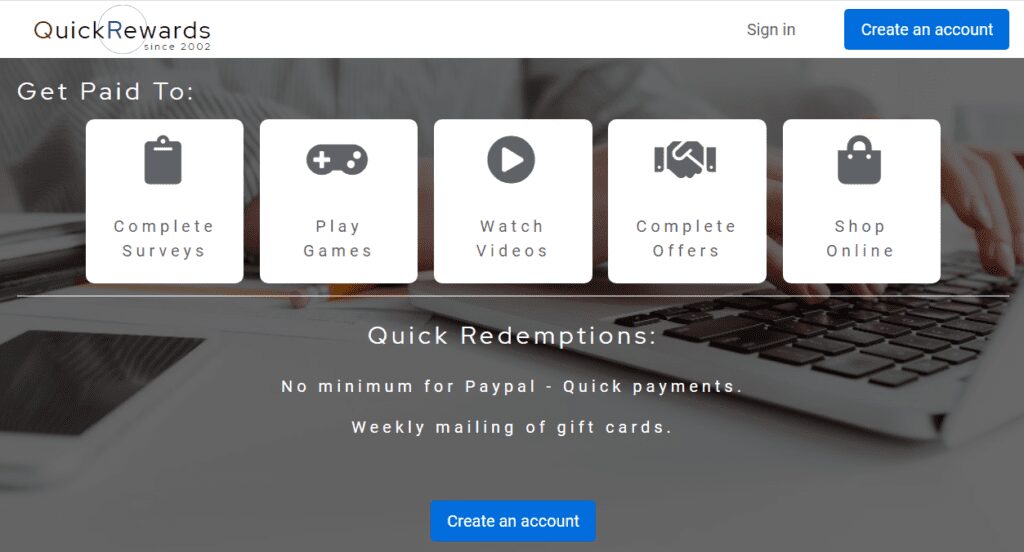 Like we have mentioned, QuickRewards.net is a Get-Paid-To click site where you get rewarded for completing simple tasks and offers.
Such as Surveys, Offers, Playing games and online shopping.
Often referred to as the QuickRewards network
They are based in the US and only available to Canadian and US residents who have been around since December 2002.
Time spent is something we don't see too often with GPT sites so what they must have been doing over the years gives credit and a testament to the site.
According to their website, they have paid out over $7 million in the years that they have been going but that doesn't seem too much for a company that has been operating for nearly 2 decades.
One thing that makes QuickRewards stand out amongst its competitors is that there is no cash-out threshold at all, so quick pretty much means that.
So who is responsible for QuickRewards?
There was no information regarding the owners on the website which we find is really annoying and it's like they don't want to associate themselves with the business.
I mean this business has been running for 2 decades and wouldn't it be courteous to show its members who they are and that there is nothing to fear?
However, what we did find was Dmitry Beker who claims to at least be running things and probably the founder.
---
How does QuickRewards Make Money? 
We are often asked how businesses like QuickRewards can afford to pay its members when it costs you and me nothing to join?
Well here it is, market research is the quick and short answer!
Market research is big business and is a way to help companies compete at the top.
To help expand markets and find new ones through current trends and consumer behaviour.
The job of QuickRewards is to connect people like you and me to 3rd party survey routers and in return, QuickRewards is paid a commission when a survey is completed.
This commission is then shared amongst the members.
If you didn't already know, affiliate marketing is how all this operates and how this website that you are on works.
---
How does QuickRewards

W

ork?
Looking at the QuickRewards network website, it isn't the friendliest to get used to and could do with a little updating.
As of this review, there isn't a mobile app which seems strange as more people use their mobile devices nowadays but the site does appear to be mobile-friendly though.
The first thing you need to do is become a QuickRewards member which is pretty straightforward.
Just enter a few basic details like email address, name and password and once you activated your account through an email sent to you then you are ready to go.
The next step once you are in the member's area is to answer some personal questions which will help QuickRewards match you with the right surveys.
At first glance, you will notice that the QuickRewards Network isn't short of things to do and should occupy your mind.
Surveys
Play Games
Watch Videos
Complete Offers
Shop Online
Emails
QuickRewards works on a points system, well actually there is a mix of both points and cash.
Points are called "Quick Points" and 1 quick point equates to a fraction of a cent.
100 quick points = $0.01 and the system converts the points to cash when you reach multiples of 100 quick points.
1000 quick points = $0.10
5000 quick points = $0.50
10,000 quick points = $1
Paid Surveys 
Obviously, the main source of income is going to be through taking surveys which you can find on your member's dashboard and emails will be sent out periodically as well.
Remember that a lot of these surveys will fill up pretty quickly and it works on a first-come-first-served basis.
Even though these surveys are allocated to you, you will have to answer some questions first to see if you qualify or not.
Taking into consideration that most of the time you won't qualify for the survey which is quite frustrating.
When you qualify you will most likely be redirected to a 3rd party survey router where they will ask you some further questions and in most cases the same questions you have already answered.
When you are actually taking the survey remember to take your time and be honest because some of the questions will be cross-referencing previous answers.
If they don't match up then you will be disqualified and when you have just spent 20 or 30 minutes let me tell you it's pretty annoying.
You can find paid surveys from $0.20 to around $3.50 in some cases a little higher but these don't come around too often and it's my guess that these show up to spark interest and keep you on the site.
Playing Games
If you are into your computer games then this might be of interest to you.
With some of the games, all you have to do is click on it to be rewarded whilst many will require you to play for a considerate amount of time.
Achieve a certain level to get your reward however these are not that great and would only be classed as entertainment value.
Mind you these games are there for testing purposes and in a lot of cases pre-market so you will be helping the developers out somewhat.
Watch Videos
Another way would be to watch videos but to get paid you have to let those boring ads play otherwise you won't get your reward.
These can be mind-numbing but you might be fortunate enough to find something of interest to watch.
Remember these videos are between 5 and 10 minutes long and expect to be rewarded just a few cents.
Complete Offers
Here you can sign up to free trial offers which are normally over a certain period and in most cases you will have to give them your credit card details.
Just remember to cancel the subscription before the trial ends otherwise you will be charged.
You can also find products to sample along with some additional surveys.
Shop Online
If you shop online like most of us do then you might find this a great way to get a reward or cashback as it is known.
You are probably not going to find Hugo Boss or Louis Vuitton on there as partners but should be able to find an alternative product.
Remember people are making money off you purchasing their goods and therefore don't take it for granted that their prices are the best.
I would shop around on the internet because you might find the same product much cheaper.
Another thing to watch out for, is that you joined QuickRewards to make some money not to spend it?
What we have found in the past that purchasing something from one of their partners can sometimes take weeks to receive your reward.
We have even found that if for any reason the link is broken before it is completed that the reward or cashback will be lost.
If shopping online is something you do often, you might like to check out these cashback sites, Swagbucks, FeaturePoints or SupePayMe
Replying to Emails
Another way to earn some quick points or cash is to answer the emails that QuickRewards sends out to you from time to time.
These emails contain offers and links and often just by opening the email will get you some reward.
This could be deemed as spam and that's probably where you will find these emails so don't forget to look there.
Remember all these activities are to keep you on the QuickRewards site for as long as possible.
Referring others to join QuickRewards
Referring others to join is a good way of making a passive income but the commission that you can make is only 5% of what your referral earns.
People tend to use their affiliate link to introduce family and friends but ensure that what you are inviting them into is ok otherwise you will be losing a few friends.
How you get paid
There is no requirement to exchange quick points for cash as this is done automatically for you for every 100 QP you reach.
In theory, there is no cashout threshold but why would anybody want to withdraw just a few cents? You wouldn't would you?
There is a minimum amount that you can withdraw from PayPal and that is currently $5.
But, most members let this build-up, but I wouldn't let it grow too much because it has been noted that accounts get closed for ridiculous reasons.
PayPal been the method of choice for transferring money but check out for charges and there will be a restriction on how many times a day you can use PayPal.
You can also use gift cards and at QuickRewards there is a fair selection to choose from.
---
How much can you make with QuickRewards?
The one thing that all dedicated and GPT sites have in common is the lack of earning potential.
It doesn't matter whether you go with Swagbucks, Idle Empire or Freeskins the one thing you are not going to be able to do is, change your lifestyle.
That will continue until you make a conscious decision to move away from these sites and learn a way where it will make a massive impact on your life.
You will earn some money but it will take a lot of dedication on your part and if $2 an hour is ok then so be it.
You have to be constantly active on these sites and some people spend all day and I'm afraid that was never for me even though I tried.
Most reviews you will read have a tendency to lead you down the garden path, making out that you can become rich and there is normally some motive behind that.
With restrictions on the number of surveys that you are able to complete bearing in mind that you will only qualify for around 20%.
Yes, you heard that right!
If they allocate you 100 surveys then 80 of those you will not qualify for.
Not to mention the ones you qualify for and 20 or 30 minutes into the survey and for no apparent reason, you will get disqualified.
This happens more than you'd think.
---
Who is QuickRewards

 F

or?
The QuickRewards Network is restricted to just Canadian and US residents and you have to be at least 18 years of age.
Only one account per household too.
The age requirement is due to PayPal as the only method of cash transfer.
---
What we liked about QuickRewards
The QuickRewards Network has been around for

what seems forever in GPT terms and here we found a few things that we liked about the system.
Free to join,

with a guarantee to no future upgrades where membership fees are offered which we are seeing with some GPT sites.
There is no cash-out threshold, but the only method of payment is Paypal which is currently $5 but we suggest keeping payment transactions down to a minimum otherwise you could incur charges.
The number of surveys and tasks available seems to be plentiful so you shouldn't find yourself sitting around waiting for surveys.
A member of the Better Business Bureau since January 2012 and have an A+ rating but are not accredited as of yet.
---
What we don't like about QuickRewards
For a business that has been operating for so long,

we thought that we'd find a lot more negative things to say about QuickRewards.
Limited availability, where it's only open to US and Canadian residents.
No mobile app which considering the present climate where everybody has a mobile device we think they are missing out.
Expect to qualify and complete around 20% of the surveys that are allocated to your account.
Very low earning potential, which is the norm amongst dedicated survey and reward sites.
Website information, we found was lacking somewhat and whilst some information was there in the FAQ there were a few things that we needed to know but support is on a 1-72 hour reply schedule.
---
Is QuickRewards

a SCAM or LEGIT?
For a site that has been around for so long, we thought they'd be a lot more negative things said about them.
Our research found that the QuickRewards network is not a scam but a legitimate opportunity.
However, due to the very low-income potential, this is not an opportunity that we would recommend.
If reward sites are what you enjoy doing then it might be worth checking out FreeSkins, Idle Empire or even Swagbucks all of which are reputable reward sites with big followings.
---
QuickRewards Review

: Final Thoughts!
GPT and dedicated survey sites are never going to make you rich no matter what you think or who you listen to.
It all depends on what you want out of life and for many earning a few bucks here and there might seem like a bit of fun but let me tell you it is not.
No matter how hard you try to make some money with these sites they will always hold you back where you'll get frustrated to the point that you'll have to find a 9-5 job.
I know, something that we don't want to do, but what is the alternative?
Do what I did and find a way to make an impact on your own terms where you dictate how and when you work.
I am not here to spout off and down talk online surveys or any other opportunity for that matter if it is worthwhile.
I just can't recommend sites like this because I have morals and it just wouldn't be right if I did.
But I can recommend a much better way to earn real money…

---
Feedback, Comments and Subscribe
Ok, guys what is your take on QuickRewards?
Maybe you have been or are still a member in which case we'd love to hear about your experience, whether positive or negative.
Any questions for us just add them in the comments section below and we will get back to you.
Until next time, stay safe.