Hi, I'm Mick and welcome to the
Online Panel Net Review
We became aware of this GPT site just the other day and thought we'd take a closer look so here we are with the full lowdown.
With so many scams about you have to be careful and the only way to do this is through thorough research.
That way you will know whether it's a legit make money opportunity or just one to stay away from.
Before we continue we'd like to mention that we are in no way associated with Online Panel NET and therefore won't be pitching to you.
However, what you will get is an unbiased review with all the facts so that you can decide whether to join this business or not.
So, is Online Panel NET a scam or is it a legitimate opportunity?
Let's see, shall we?
---
[Affiliate Disclosure: This post may contain affiliate links which means I may earn a small commission if you purchase anything through one of the links. However, this will not affect what you pay!]
---
Product: Online Panel NET
Founder: Buy Biz Charts Limited
Product Description: Get-Paid-To click site
Website: www.onlinepanel.net
Price of product: Free to join
Recommended: No
Summary: Rewards and dedicated survey sites aren't a favourite of ours because there simply is very little money to be made, especially for the amount of time that you have to dedicate to them.
We read so many reviews from affiliate marketers claiming that these sites are a great way of making some money but they just aren't been truthful.
These are the reviews you should be wary of as they are only trying to get you to become a member through their affiliate link and earn a commission on whatever you earn.
Had enough of GPT and dedicated survey sites and want to earn some real money then…

---
If you are sick and tired of SCAMS, Pyramid schemes, MLMs, recruiting, having to purchase stocks, haggling family, friends and customers. Looking for a proven method of making money online, then check out my #1 recommendation. 
---
Internal Summary and Navigation
---
What is Online Panel NET about and who are the Founders?
Online Panel NET is a GPT site that was launched in 2019 and offer people like you and me who become members, a way of earning money by taking paid online surveys along with other activities that are available.
If you check the website www.who.is you will notice that the domain was actually registered in August 2004.
We are not sure just what the domain name Online Panel Net was used for prior to its current use.
The parent company who Online Panel NET belong is a company called Buy Biz Charts Limited who are based in Hong Kong.
A relatively new rewards site and whilst you will be able to make some money, the amount of money will be small no matter how much time you dedicate to the site.
You might like to take look at Swagbucks and Freeskins as alternatives or a backup if you don't like Online Panel NET.
---
How does Online Panel NET Make Money?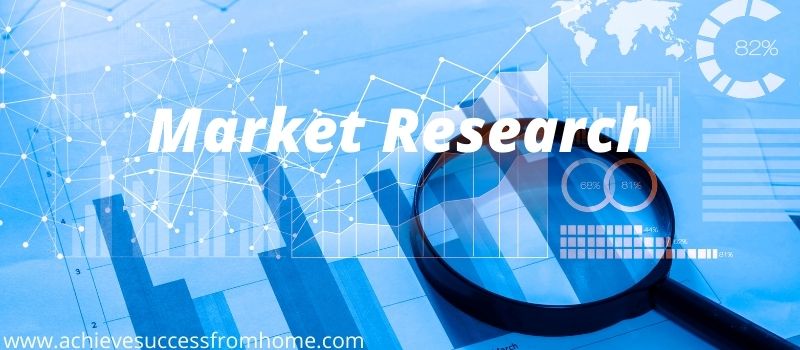 Yes, market research is how Online Panel NET make their money.
Market research is an important business strategy where they use in this case surveys to compile information about target markets along with customer behaviour and trends.
This is very important to compete at the very top and the bigger companies rely on this information.
That said, things are changing where the internet can be used to piece all this information together, through social media and Google.
Online Panel NET get paid for connecting people like you and me to 3rd party survey suppliers and once the survey is completed, Online Panel NET will get paid a commission which is shared with the survey taker.
---
How does Online Panel NET

W

ork?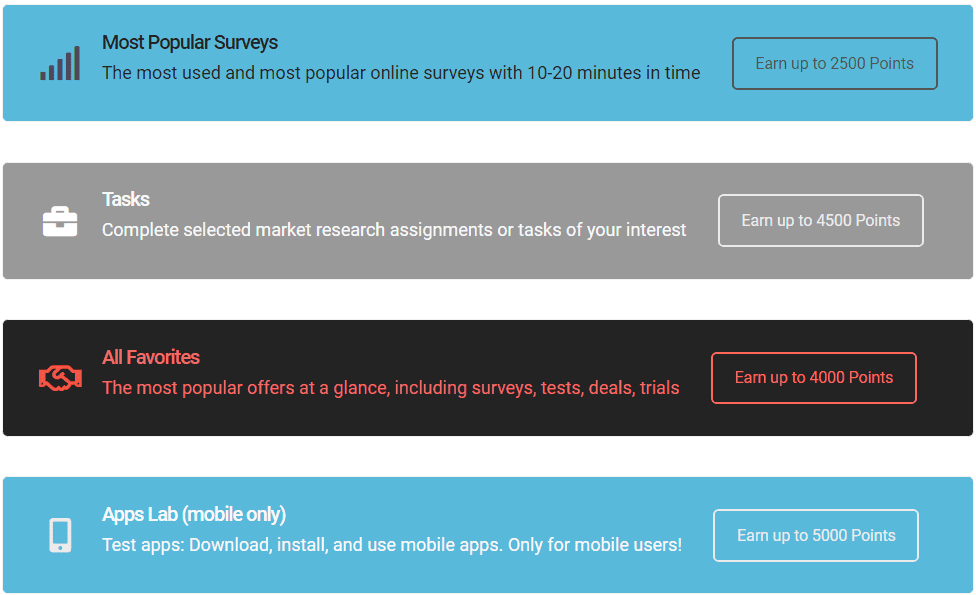 When you first sign into the member's dashboard you will see…
Most popular surveys
Tasks
All favourites
Apps lab
It's a little confusing at first because you can access the same options across the top of the display but are named slightly different.
All favourites are referred to as "smart money" on the taskbar.
A close look at the "most popular surveys" and you will notice that there aren't that many surveys as they are grouped by country.
So a quick glance and it will look like there are plenty of surveys until you look closely.
Online Panel NET uses a points system…
10 = $0.01
1,000 = $1
10,000 = $10
Paid Surveys 
The main problem I see with Online Panel Net is that you aren't notified of surveys through email like other sites, you have to keep signing in to the system to check.
Another problem is that you won't know whether you have qualified for a survey until you have answered a number of questions and in most cases, the questions are repeated over which is extremely annoying.
With Online Panel NET, because they don't offer surveys themselves, you are diverted to 3rd party survey providers which isn't a problem, except that sometimes the link can be broken which means you have wasted your time.
Tasks
There are tasks that you can sign up for where you can gain rewards and win prizes and quite frankly we think this is a waste of your time.

According to the images you could be awarded as much as 6000 points per task.
Smart money
In this app, you can find rewards that are associated with…
Mobile apps
Desktop
Surveys
Signing up for free trials
Where you can earn up to 10,000 points or $10.
Apps lab
Is where you can find games that you can sign up for where you have to achieve a certain level before been rewarded with a number of points.
Sign up for trial offers where you will have to give out your card details, so be careful when this happens.
You can even download the Bitcoin app but to get your rewards you'll have to invest some money.
Referring others to join Online Panel NET
There is an affiliate program that you can sign up for which isn't that straightforward to join like other GPT and dedicated survey sites are.
Its looks like you are vetted first before they allow you can use the Online Panel NET affiliate program.
That's not a bad thing but they require you to have a website first which most people taking online surveys don't have.
How you get paid
As soon as you have accumulated 10,000 points then you can ask for a payment which is made via PayPal.
Reading the payment instructions on the Online Panel NET website and it looks like you are restricted to just a $10 withdrawal.
That means if you have 30,000 points or $30 in your account then you are allowed to withdraw just $10 at a time which I find strange but that is exactly what the website is saying.
Another thing we do not like is that payments can take between 3-6 weeks and this can only be done after the 15th of each month.
---
How much can you make with Online Panel NET?
The reality of it all is that you can earn some money with Online Panel NET, however, the amount you earn is not going to be life-changing and the best you can expect is a few bucks here and there.
This is not solely based on Online Panel NET, but all GPT and dedicated survey sites are the same.
There are restrictions here at Online Panel NET where the survey providers state the most surveys you can take in one day is a maximum of 3.
So realistically if you look at 3 survey providers with completing 3 surveys at a maximum of 500 points.
That's 3 * 3 = 9 surveys times 500 points = 4,500
Which equates to $4.5/day times 7 = $31.50/week (in theory)
Experience tells us that you will be lucky to complete 4 surveys a day which would make you around $15/week and $60/month.
It all depends on which country you come from as well though.
To get the most out of Online Panel NET, you need to dedicate a considerable amount of time to the site.
We have just analysed the earnings and you can expect to earn between $50-$100 a month.
There are many other ways that you can earn besides paid surveys which is a bonus, though the points rewarded won't be as much as surveys.
---
Who is Online Panel NET

 F

or?
Online Panel NET is supposedly for any country although you are going to find some countries that don't have access to PayPal.
The website is currently available in English, Italian, German, Portuguese, Spanish and French.
By looking at the number of languages they have covered, certainly makes you believe they are accommodating most countries.
---
What we liked about Online Panel NET
Online Panel NET has got a lot of competition in

the GPT arena, and even though they are a new company we still thought there would be a few reviews on review sites like Trustpilot to give us more of an indication as to whether they are any good or not.
PayPal is the only method of payment.
There are many ways that you can earn on the platform not just with surveys.
---
What we don't like about Online Panel NET

Unfortunately, there were still a few issues that we thought still needed to be addressed.
There is only one payment method which is PayPal, and you are restricted on the amount you can withdraw and this can take between 3-6 weeks for the payment to be processed.
For most surveys, you will not qualify which is the norm with online surveys and can be very frustrating, especially as you seem to be asked the same questions time and time again.
Another thing to watch out for is the number of times that you think you have completed a survey, only to be disqualified for no apparent reason and that's often after spending 20 or even 30 minutes doing one.
It really amazes me because they have all the data that you have given them and we just see this as a way to avoid paying a few points. Of course, we might be wrong though!
Low earning potential, which there is no getting away from but as long as you are aware of this then there are no surprises.
Restricted on the number of surveys that will be available to you, which means you could be waiting around for some time. However, there are a number of other activities to keep you occupied.
---
Is Online Panel NET

a SCAM or LEGIT?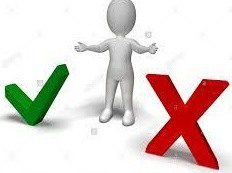 Online Panel NET is still a relatively new GPT site and therefore not a lot of data to go on.
We couldn't find any indication that Online Panel NET is a scam and whilst they might be a legitimate way of making some money.
They definitely are not a money-making opportunity that we would recommend, simply because there is very little money to be made.
If it's real money that you are looking to earn then you have to get out of your comfort zone and make a conscious decision because nobody is going to do it for you.
We know what it's like and you may not believe it, but online surveys were where we started, but we quickly realized that our lives were not going to change through taking surveys, in fact, it would only get worse if we did nothing about it.
Sure you will earn some money but be prepared for long hours doing mindless tasks.
We don't like the fact that it could take you between 3 and 6 weeks to get paid as we see no reason for this, other than the longer the money stays in their account the more interest they will make.
---
Online Panel NET Review

: Final Thoughts!
There is nothing special about Online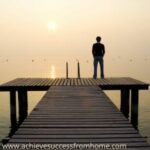 Panel NET but these are early days yet.
We do understand that these GPT sites are a big help to some people, especially in countries where they do not get the right help like in the US or the UK.
We have nothing against sites like Online Panel NET and if you are happy to earn a few bucks here and there then go for it.
However, you might like to check out these sites too…
Swagbucks, Freeskins, Reward XP or even Idle Empire that way you have a much better choice.
The rewards for the amount of time that you will spend is ridiculous but if that time was spent more constructively a lifestyle change could be just around the corner.

---
Feedback, Comments and Subscribe
OK, guys we are at that point where we have to rap it up.
Hope you enjoyed this review and if you did we'd love it if you shared this amongst your friends.
Any questions no matter how trivial then just add them below and we will get back to you.
Until next time, stay safe.