Welcome to What is CTFO
CTFO or Changing The Future Outcome is a legit multi-level marketing company manufacturing and selling a unique range of CBD products.
We are just getting our heads around CBD oil and now CBDA is all the rage, so what is CBDA and what can it do for you?
CDBA is where CBD comes from and is more potent, but more on that later.
CBD oil has been getting some bad press lately, with many manufacturers' lying about the strength of their products.
That is coming from some big high street retailers as well. So what is happening? Can CTFO be any different? Is CTFO a Scam?
Well, for starters, they took the initiative to grow and harvest their own industrial organic hemp plants.
Which will certainly help to avoid getting tangled in any such lawsuits, which is a great start and shows their commitment.
People are desperate at times for pain relief and I can understand why when their current medication begins to no longer work.
Who are prepared to take risks and purchase these products from anywhere online. Not such a good idea!
So without further ado, let's get into this CTFO review.
---
[Affiliate Disclosure: This CTFO CBD Review has been thoroughly researched from information and testimonials that are in the public domain. This post may contain affiliate links which means we may earn a small commission, however, this won't affect what you pay!]
---
Product: CTFO or Changing the future outcome
Founders:  Stuart Finger, Steve Finger, Michael Khan
Founded: 2015
Website:  www.ctfocbdofficial.com
Product description: Network marketing business, manufacturing dietary and health products with a large range of their own CBD oil products.
Price: 100% free to join
Recommended: No
Summary: The CBD oil industry has really exploded and this is noticeable with the vast number of startup companies that we are seeing.
Analysts predict that by 2024 revenue will have risen to between 15 – 20 billion dollars.
That obviously means there will be a lot of competition.

CTFO CBD Review – Table Of Contents
What is CTFO And Who Are The Founders?
CTFO or "Changing the future outcome" is a company that was founded in 2015′ by Stuart Fingers along with his brother Steve and Michael Kahn.
Stuart started way back in 1989 achieving success at many levels until he decided to venture on his own.
Helping build teams with thousands of people and serving hundreds of thousands of customers.
He has also operated and owned businesses in the food and retail industry.
His "passion" as he puts it, is to help others succeed and by starting CTFO hopes to achieve this.
Check out this short business presentation.
The original name for the CTFO was "Chew the fat off" which is a bit of a gimmicky name that I couldn't really take seriously, but I guess it's a name that would stick in your mind, right?
Their primary goal was in the weight loss niche, and sometime in the same year they decided to switch tact and move into the "Health and Wealth" niche and include CBD oil products of their own.
Here is where we move to the new name, "Changing The Future Outcome".
A great business title that really sets them apart. Just how they went from "Chew the fat off" to the current name who knows.
Maybe this was their vision all along!
They grow all their industrial organic hemp plants themselves, on their own farms along with the manufacturing process.
That way you are in full control.
CTFO declare that its products are of the highest quality and that its prices are the lowest in the industry.
But I'm not sure how they can commit to such a statement.
I have seen similar products on the market and much cheaper but whether they are as good or not is anybody's guess.
Their products conform to GMP standards, which stands for "Good Manufacturing Practices" and they are regulated by the FDA.
They even offer you a 60-day, empty-container, money-back guarantee for anyone.
No seriously, the more I look into this business the more I like it, but don't sign up just yet!
You can find their entire CBD oil product certifications for anyone to check out on their website.
That way you can see exactly what is in the products before you think about purchasing them.
The range of products on their website is for…

Is CTFO a Pyramid Scheme?
Is CTFO a pyramid scheme? Absolutely not!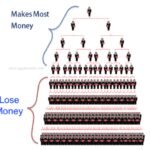 The company is legit and you can make some money selling the products.
But, if you really want to stand any chance of making some real money then you would have to become part of the compensation plan.
This is where the whole pyramid scheme comes from because of its design.
You would also have to be exceptional at recruiting and building a large team.
It's a continuous battle because people don't hang around very long and you are forever having to replace those with new members.
Just for clarity on what a Pyramid Scheme is…
When a company pays their members for recruiting people without a product or service to sell.
Companies that operate in this manner nowadays are far and few between but are illegal in most countries.
Many companies use products and services to hide behind, that do not have any intrinsic value.
These could be deemed as a pyramid scheme in disguise which is illegal but more difficult to determine.
The  Federal Trade Commission has compiled a report on the way MLMs operate which you can read about here.
You might like to check out this short video…
Success is Rare With CTFO
Unless you are experienced as a network marketer and you have a big enough following then success is rare with most MLM companies.
We have reviewed hundreds of multi-level marketing businesses and the consensus is that for most people they just do not work.
Not sure whether you are aware although you should be, because this can save you a lot of time and money.
But between 73% and 99% of all MLM distributors lose money.
As much as 99%, do not earn enough to replace a full-time job.
In fact, it is commonly known that between around 50% and 65% do not stay around long enough and leave within the first 12 months.
Like many MLMs, CTFO does not provide an income disclosure statement, simply because they do not paint a nice picture.
Equally, if there was one it would probably put people off from joining anywhere.
Where Does CBD Come From?
CBD Oil comes from both the Marijuana and the Hemp plant and is referred to as cannabinoids.
Both plants come with traces of the THC (tetrahydrocannabinol) element, which is the psychoactive component. The component that gives you a high!
In the UK Marijuana is 100% illegal, but in the US there is a bit of a mix going on, with some states legal, some legal for medical use, some legal for medical use with limited THC and some, where there is a total ban.
Saying that though, the law states that THC can not exceed 0.3%.
With many concerns from government agencies, I guess the confusion is between CBD and THC.
Hemp is one of the fastest-growing plants and has been around for thousands of years, and used for many applications, commercial items, such as paper, clothing, textiles, rope, paint, and animal feed to name but a few.
Manufacturers even sell the floral material to pharmaceutical companies for use in medicines to counteract sleep, asthma, and neuralgic pain conditions. So we see clinical tests have been done and OK'd by various authorities.
Maybe if big pharma got in on the CBD oil Industry then there wouldn't be an issue!
Anyway, why not check this video out, which goes into more details regarding Hemp and what it can do for you.
What Are The Benefits?
CBD Oil is becoming extremely popular and certainly, since the laws were changed, people instead of purchasing from places like eBay where you haven't a clue what you are buying can sort of feel confident purchasing elsewhere through businesses like CTFO.
Big Pharma won't like smaller companies getting in on the act and therefore you are still going to have the FDA ringing down the ears of some CBD manufacturers.
The rapid growth of the CBD industry is a minefield for "Cowboys" and "Opportunists" to get in on the action, and we see this all the time.
Medical trials are still inconclusive, but if people are feeling the benefits then they are still going to take it regardless of whether CBD is restricted or even banned, although that just isn't going to happen. Just look at the revenue that would be lost.
What is CBD Oil?
CBD is a component that is naturally sourced from the industrial hemp plants that are bred for their nutritional properties, and primarily extracted from the hemp paste which is made from the leaves and flowers, with the hemp seeds used as a secondary source.
What the Hemp plant lacks in THC it makes up in CBD oil which helps to keep the psychoactive traces at bay, which makes it great because it's the CBD portion that is legal and the THC which is not a trace element at best.
[I even use hemp seed when fishing on the local rivers and I can tell you one thing, and that's once you have the fish feeding on hemp they go crazy for it.]
However, the legality varies across the globe where governments will only allow hemp that is grown with especially low THC content.
The miracle element or component in the Hemp plant is actually CBDA and not CBD. Whilst there are traces of CBD the additional strength comes later after a process that takes place.
What is CBDA
CBDA is, in fact, the acid precursor of CBD and without CBDA there would be no CBD or very little of it.
To produce greater amounts of CBD a process has to take place in the raw hemp, where the CBDA is to be heated to a certain temperature causing what is known as decarboxylation.
Products can come with both CBD and CBDA in various percentages and according to CTFO…
"The anti-inflammation properties in CBDA are greater than in CBD as it is a potent inhibitor of the COX-2 enzyme which blocks pain"
Reading between the lines, it looks like CBDA is obviously more potent, but does that mean the effects are better than standalone CBD oil?
Let's see what Dr Steven Trobiana has to say about CTFO and CBDA.
A neurology specialist coming from Osseo, Minnesota and has been practising for 44 years.
He describes the effects of the CTFO product 10XPureGold
The benefits of CBD Oil.
CBD oil has been gaining traction in the Health and Wellness Industry, with confirmation of scientific studies confirming that CBD may ease pain symptoms such as chronic pain and anxiety.
There are several benefits of using CBD oil that have backing from the scientific community.
CBD can ease Pain
Many people are desperate for pain relief which has a massive impact on our well-being and causes all sorts of issues, such as depression. Therefore people are willing to try anything and we see many buying from places like eBay where you haven't a clue whether the product is good or bad.
Could Reduce Anxiety and Depression
Depression and anxiety are 2 major health disorders that can have a detrimental impact on your health and well being.
Depression and anxiety are normally treated with pharmaceutical drugs, which the big hitters are not going to like.
Drugs, no matter what they are over a period of time tend to stop working due to the body's reaction and getting used to them. People are seeing CBD oil as a better alternative with longer-lasting gains compared to normal drugs and with little or no side effects.
Could Alleviate Cancer-Related Symptoms
CBD may help with side effects like nausea, vomiting and pain that a patient suffers from chemo, radiation and other treatments.
Although THC is restricted in the US to 0.03% the combination of both CBD and THC has been known to significantly reduce the pain compared to just CBD or THC alone.
A study looked into the effects of CBD and THC in 177 people suffering from cancer-related pain, who did not experience relief from the medication given to them.
Those that were treated with an extract containing both CBD and THC compounds experienced a significant reduction in pain, compared to those who received only THC.
May Reduce Acne
Due to CBD's anti-inflammatory properties, recent scientific studies found that it had the ability to reduce sebum (oily secretion glands) production.
Could Benefit the Health of the Heart
Research has found that CBD had the ability to lower high blood pressure.
This is particularly of interest as high blood pressure is a major heart condition and cause of many deaths.
Can You Really Make Money With CTFO?
If the product is as good as they say, then it should be an easy sell and the product should sell itself, but it just doesn't work that way sometimes, especially in a network marketing business like CTFO.
Of course, you can and will make some money, but just how much and how successful you'll be will depend on your strategy and the level of experience and knowledge that you have.
The biggest issue any company will have is whether their product is top quality or not. At CTFO, it looks like they have that angle already covered.
You will find many experienced affiliate marketers joining this type of company because they will have in some cases a huge email list based on their subscribers. This is very important, but beginners have to start somewhere.
Things to watch out for when joining a Network Marketing Business
Check out the business and owners thoroughly, which includes the payment plan.
You have to be careful which sponsor you join up with and try to check them out before you make a full commitment to join. You need to know they have your back, but this is sometimes very difficult to do.
This is important because these are your leaders or sponsors, and they have an obligation and should be training you from the off. Remember it is in their interest to keep you in their downline, you to sell the company's products and you to recruit others.
What you will find in many cases is an enthuses to recruit and forget about their downline members.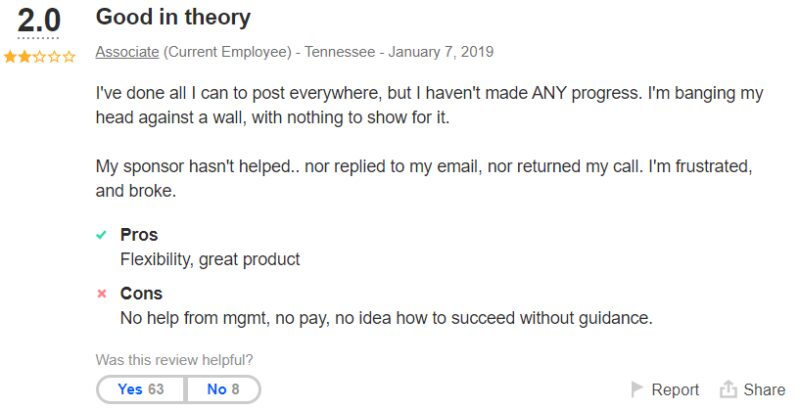 This is always apparent because many of these MLM companies tend to only have a short life expectancy. I know this because I have been part of several and I know many who have lost thousands too.
At CTFO it is 100% Free to join but be careful
When you join as an associate, you get a free replicated website for marketing purposes with all the products and order processing software ready to start marketing. A very professional looking site it is too! Don't be taken in! Alway's have an "OPEN MIND" and take your time!
For many who are new to making money online and in particular a Network Marketing Business, you will be thinking "What the hell do I do now?". Why has everyone got the same identical website?
This is when you pretty much realize this is no push-button system and you are going to have to work. Dread horror!
Now the fun starts but providing you have chosen your "Leader or Sponsor" wisely and who is prepared to share his or her knowledge, then it should be straightforward. Well, you should be on the right path anyway!
Remember, selling to anyone is extremely difficult especially as they don't know you. This is a numbers game and the more people that see your "Posts", "Articles", and "Landing Pages", the more chance someone will take you up on your offer.
Posts, articles and landing pages. I bet that has got you thinking?
Stay with me and I will explain something later. 
BUT WAIT -It no longer becomes FREE if you want to Excel and Ramp up your Pay with Business Builder Packs
You thought you'd got a great deal with joining for free, with a nice professional looking website which you don't know what to do with yet.
Remember what I said earlier, that it will be extremely difficult to sell to someone who you didn't really know, and that's selling something for FREE.
Well, just imagine how much more difficult it will be trying to sell them a bunch of products that are going to cost you an arm and a leg.
I'll let you watch this presentation by the CEO, Stuart Fingers and see what you think.
Let's Take a Look at The Payment Plan
Every Network Marketing Business or MLM has a payment plan of some description.
This is where many confuse an MLM with a pyramid scheme, simply because the payment plan described is, in fact, a pyramid and that's where the similarities end.
At CTFO, they claim to have created their own payment plan and had it copyrighted.
I won't go into details about the payment or compensation plan, suffice to say they can be complex for many reasons, but if what they say at CTFO is correct then you don't have much to worry about or do you?
You can check out the video here or if you like you can access the pdf link here. 
What Others Say About CTFO
For a company like CTFO, you'd expect to find plenty of reviews from customers both positive and negative.
There are a few reviews dotted around but hardly worth reporting on and I guess no negative reviews mean people are happy, right?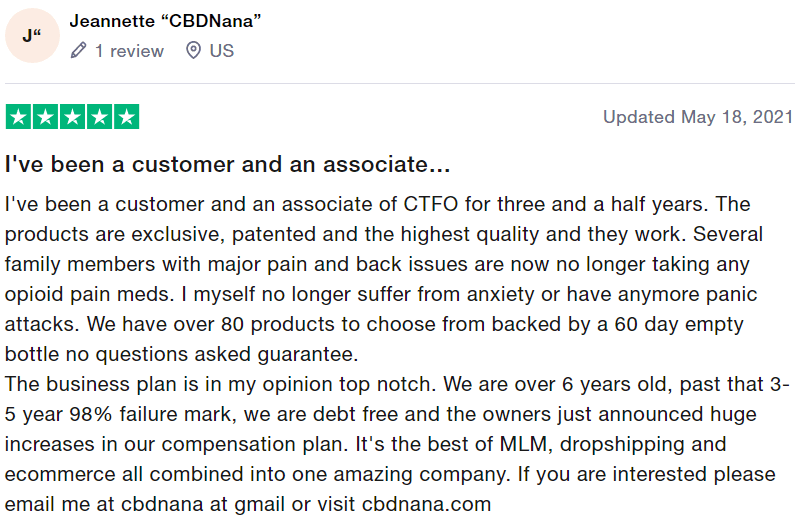 From time to you can find reviews added on Trustpilot but you are going to find it difficult to find any elsewhere.
You could check out testimonials on the CTFO website, but what you aren't going to find there are negative reviews. Just can't be trusted!
What I Like About CTFO
As a bystander looking in, I see many things I like about CTFO and a few I have highlighted below.
All Their Products Are Claimed To Be Organically Grown:
CTFO claim to grow and use only organic commercial hemp in their manufacturing processes and therefore no added chemicals are present in the final product.
They Are Recognized As A Certified GMP Company:
GMP which stands for "Good Manufacturing Practices" means that the entire process from start to finish is monitored and manufactured in GMP approved facilities.
This also means that they are regulated by the FDA and not many companies operating in this industry can say that.
All Their Products Come With A 30-day Money-Back Guarantee:
This according to the website come with an empty bottle policy, meaning that even if you used the entire bottle you would still get your money back.
How's that for confidence? I'd love to know if this actually worked!
Their Skincare Products Are Lab Certified and Transparent:
No animal testing on their skincare or beauty products
CTFO is 100% Free to Join:
For that, you get a professionally designed website with everything including getting your marketing ASAP.
THC Is Present But Only In Very Small Amounts:
THC is the psychoactive component that the government stipulates can not go beyond 0.3%. CTFO claim their products are below 0.2% which is way under the government guidelines.
What I Don't Like About CTFO
Here we come to the pitfalls and pretty much what people are looking for.
Products Are Expensive:
I do believe the products are expensive, but if they do grow their own industrial Organic Hemp Plants, and manufacture the whole process, GMP approved and regulated by the FDA then there has to be a cost factor.
Total Lack Of Reviews On 3rd Part Sites:
If the product is so good, then why is it that I can't see many customer reviews about the product. Ok, you find some reviews on the website but you can't really believe those. Somewhat disappointing!
Not Accredited On The BBB:
The Better Business Bureau does not rate CTFO
It Is Afterall An MLM:
All MLMs are a hard sell, and not for complete newcomers who are looking for a work from home opportunity.
Need To Find A Sponsor Who You Can Trust:
This is a difficult one unless you already know the sponsor.
You are looking for a sponsor with experience who is prepared to share their knowledge and be prepared to train and mentor you.
Is CTFO a Worthy Business to Get Involved With?
OK, when I started to research this business I decided earlier on that CTFO was probably a decent business to get involved in.
Everything seemed to be above board with the product.
That they grew, harvested and manufactured the organic industrial hemp themselves, and that they complied with certain business practices.
According to Stuart Finger the CEO they are approved by the FDA, although I'm not sure how we could ever prove that. Maybe a call to Stuart himself, but whether he would comply is another thing.
I have been kept on the fence and tried to give an objective view on CTFO and hope this has come across this way.
But…
Knowing what I know about MLM companies and the experiences I have had in the past, I found them extremely difficult especially as a newcomer coming into Internet Marketing.
A hard sell and a numbers game but great for experienced marketers who come along with massive email lists and know just what they are doing.
There is an emphasis to throw everything at their marketing requirements which usually means Paid Advertising. SEO is too slow especially as many MLM businesses don't stay around for too long.
All the same, great if you want to check out their products yourself. Nothing wrong with that!
Coming in as a newcomer can be extreme for many and a lot of banging your head against the wall because you are left on your own with no clue what to do next.
Remember I mentioned I had something for you and for anyone who is interested…
Something I wish I'd come across before I started my journey was "Great Advice".
I wasted 2-3 years of my life with MLMs, banging my head against a wall, which can be extremely upsetting and disturbing and really makes a dent in your confidence.
Affiliate marketing I have found is the easiest business model to learn and make money in. It all comes down to finding the right training and at Wealthy Affiliate that's exactly what you get.
They will teach you everything about marketing, with nothing left to chance.
If you don't like what you see or feel this is not for you then just call it a day but if you don't check it out you will never know, will you?

CTFO FAQs
How Much Does It Cost To Join CTFO?
It is free to become a CTFO associate but you are going to need to purchase some products to show customers.
Can You Explain The Refund Policy?
There is a 60-day money-back guarantee on all products and packages minus shipping and handling fees.
You need to mail the products to
CTFO
1325 Airmotive Suite 175-L
Reno, Nevada 89502
Which Countries Does CTFO Ship To?
As of this review, CTFO will ship products to…
US, UK, Finland, Canada, Portugal, Denmark, Italy, American Samoa, Norway, Ireland, Sweden, Germany, Guam and France.
Is It Compulsory To Become Part Of The Auto Ship Program?
No, it isn't but not joining means you could miss out on discounts.
You can at any time cancel or change the autoship but you would need to ensure that you are in plenty of time.
What Is CBDA?
CBDA is the source of where the CBD comes from which has to go through a process first before removing certain properties.
CBDA is produced naturally within the plant and found to be much more potent than the finished product CBD.
CTFO are one of the first companies to actually produce products based on CBDA.
What Would You Advise Purchasing To Get Started?
You are going to need to purchase some products and the packs offer the best value however it is all down to your budget.
Obviously the bigger the pack the more discounts with packs starting at $299.97 all the way up to $1199.97 for the Platinum Pack 4.
I Hear There Could Be A Problem With Using Facebook?
When it comes to marketing the products many would use Facebook but it has been brought to our attention that some are having difficulties.
Facebook is constantly changing their rules and you have to comply otherwise there is a very good chance that you could get banned.
Could You Recommend Any Alternatives To CTFO?
There are many similar MLMs to CTFO and here are just a few that we have reviewed.
Feedback, Comments and Subscribe
Hope you guys, enjoyed this CTFO review and that you found some benefits.
If there are any questions please don't hesitate and drop us a line in the section below and we will get back to you.
Until next time, stay safe!