Hi, I'm Mick and welcome to this
ArgonClick Review
It might be that you have seen the advertisements on social media or maybe a friend told you about this easy make money opportunity.
Whatever the reason, you are here to find out whether ArgonClick is a scam or a legit way to make money online.
Whenever we see this type of make money opportunity where all you have to do is click on ads and you get paid, we straightaway think of cents on the dollar.
We sometimes associate clicking on ads with GPT sites where there is a combination of tasks, like surveys, watching videos etc.
We always recommend that thorough research is essential to finding the right make money opportunity and the only way to ensure you don't get caught up in a scam.
We aren't associated with ArgonClicks in any way and therefore don't expect us to be pitching or selling anything to you.
What we will promise you is an honest review so that you can make up your mind whether to pursue this any further or not.
So, shall we get started and see what ArgonClicks has to offer?
---
[Affiliate Disclosure: This post may contain affiliate links which means I may earn a small commission if you purchase anything through one of the links. However, this will not affect what you pay!]
---

Product: ArgonClick or Argon Click
Founder: Unknown
Product Description: PTC or paid to click site
Website: www.argonclick.com.com
Price of product: Free to join
Recommended: No
Summary: To be honest a PTC and GPT sites are pretty much the same but people call it one thing whilst others call it something else.
However, ArgonClick is a dedicated site where all you have to do is click on adverts which as you can imagine is an easy task but the reality of it all is that these sites pay a lot less than surveys.
Now just think if the average hourly rate on paid surveys is $1-$2 an hour then you can expect to be paid $1 or even less an hour through ArgonClick.
If you want to venture down this road with ArgonClick then we would suggest you join a few other sites like Swagbucks, Idle-Empire or Branded Surveys.
However, if you want to learn how to earn some real money then click on the link below.

---
If you are sick and tired of SCAMS, Pyramid schemes, MLMs, recruiting, having to purchase stocks, haggling family, friends and customers. Looking for a proven method of making money online, then check out my #1 recommendation. 
---
Internal Summary and Navigation
---
What is ArgonClick about and who are the Founders?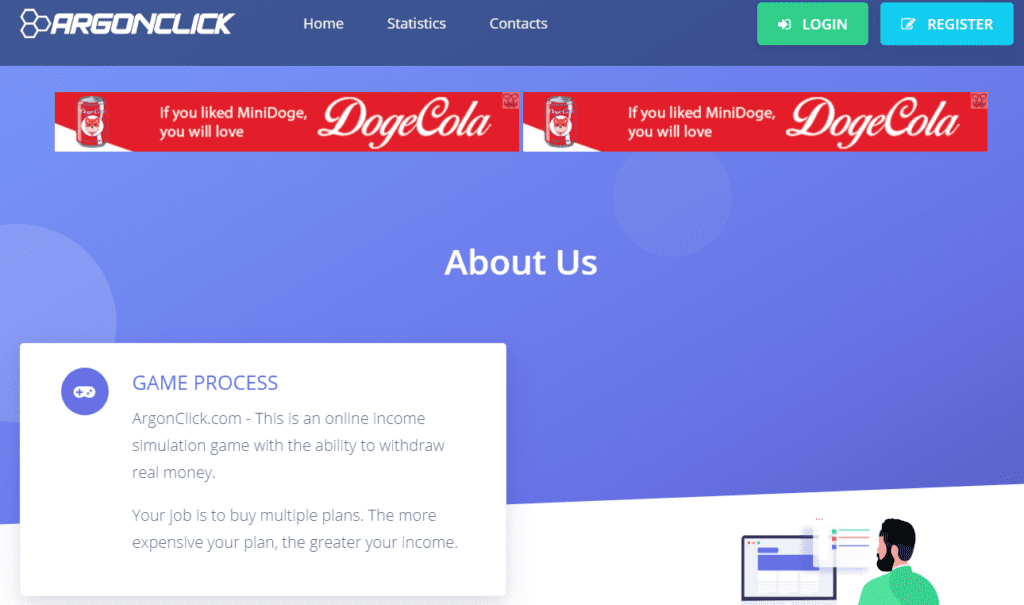 ArgonClick like we mentioned earlier is a PTC or Paid-To-Click site where members are rewarded for simply clicking on advertisements.
This is a new site that was registered in February 2020 and according to their website, they have over 40,000 members and paid out as of this review, just $7,622.84.
Now I don't know about you but that figure that you are seeing for $7,622.84 is the total amount that ArgonClick has paid out since they started the business. Sure seems a lot on the low side!
Something else you need to know and that is ArgonClick use a private service company based out of Moscow, which means you are probably not going to find out who the founders are.
Something that we just do not like but come to accept this type of behaviour more often nowadays.
---
How does ArgonClick Make Money? 
Argon Click gets paid by the advertiser for displaying their ads on the ArgonClick website and every time a member clicks on an ad the member is paid a fee.
So ArgonClick is paid upfront!
ArgonClick works as a middle person whose job it is to connect the consumer or in this case the member of ArgonClick to the advertiser's ad.
In essence, ArgonClick operates within the confines of the affiliate marketing business model pretty much like the website you are on now.
---
How does ArgonClick

W

ork?
It's a straightforward process to sign up with no email sent out to activate your account.
Once you have entered the details then you can sign straight into the system and start clicking on ads.
There are 3 ways to make money although I'd feel much better calling it pennies.
Clicking on paid ads
Daily bonus
Referring people to join
Paid ads
Effectively what you do when you sign in to the member's dashboard is go down and click on the "View ads" tab.
You will see a bunch of ads like you can see below and all you have to do is click on one of the ads and wait until the timer goes down to zero.

Once that happens you'll have to answer a simple math question before you receive payment.
Once you have entered the correct answer then you will be paid and you can close down the browser and return back to your ArgonClick view ads display.
According to the website you can earn up to 4 cents per click.
You can then click on the next ad or you could click on the same ad again that you have just clicked on.
Talk about mind-numbing and just wait till we discuss the relationship between coins and cash equivalent.
Daily bonuses
Once daily you can go into the daily bonus tab and click on any one of the advertisements which you can see below.
Obviously, these banners will change so what you see below may not be the same banners.
Once you click on the banner you will be redirected to the banner owners website.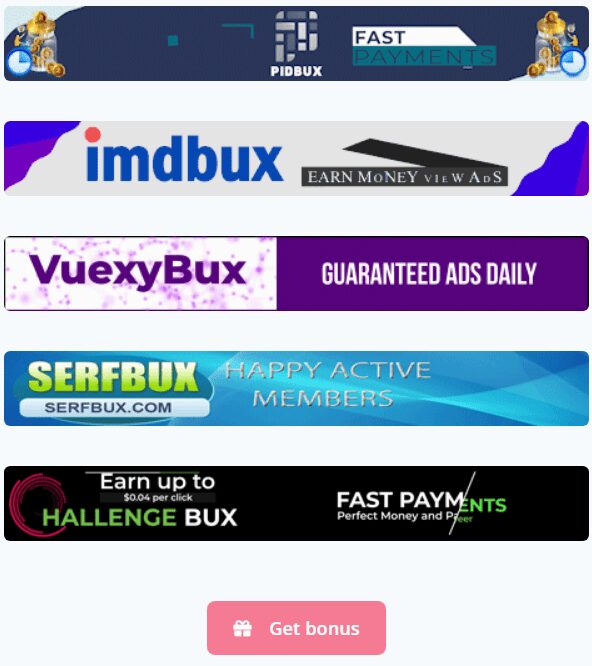 Wait till it fully loads and then closes down the browser and return back to the ArgonClick site and click on the "Get Bonus" tab which you can see above.
You will receive a bonus number of coins which will be between 1 and 60.
Referral program 
As ArgonClick operates as an affiliate marketing company then it makes sense that they offer an affiliate program to all its members.
There are banners within the "My Referral" tab that you can use and add to your website if indeed you have one.
Otherwise, you can share your affiliate link on social media like Facebook and Instagram and if anybody joins through your affiliate link then you will make up to $.01 for every click they make.
There is another way to potentially make more and that is through referring advertisers to join Argon Click.
Once the advertiser purchases an advertisement plan you will receive a 10% commission and once they start to add funds then you can earn an additional 5%.
Redeem your rewards
You have 2 account balances, one that you can exchange for cash which is just displayed as…"BALANCE" and the other "PURCHASE BALANCE" which you can use for purchasing advertising space.
You can however exchange your coins from your main balance to the purchasing balance, but not the other way round.
ArgonClick operates a coin system where…
600 coins = $0.10
6000 coins = $1
The minimum cashout is $0.02 or 2 cents.
There are a few methods to withdraw the main balance.
You could use Perfect Money or Payeer or you could even use crypto.
ArgonClick offers one of the lowest cashout thresholds that we have seen at $0.02 or 120 coins.
---
How much can you make with ArgonClick?
PTC sites are notoriously bad when it comes to earning potential.
The ads that we had available to us that we could click varied in coin rewards.
With the lowest starting at .7 coins up to as much as 5.6 coins.
If 6000 coins equate to $1 then that is a serious amount of clicking that you will have to do.
The 5.6 coins took us 40 seconds in length to complete.
It would take 1090 clicks of this 5.6 advertisement which would take 12 hours to achieve $1.
That works out at $0.08 / hour.
This is by far the worst hourly rate that we have come across.
Now I don't know why anybody would want to waste their time with ArgonClick, I really don't but according to the website, there are over 40k members.
---
Who is ArgonClick

 F

or?
According to the ArgonClick website, this make pennies opportunity is available to everyone globally.
The methods of payments we believe will not work for every country but how we to know this as there is no information on the website.
---
What we liked about ArgonClick
To be honest there was absolutely nothing that we liked about ArgonClick due to the total lack of earning potential that is available.

The lowest cashout threshold that we have come across with $0.02 although I'm not sure just why anybody would want to withdraw this little amount.
---
What we don't like about ArgonClick
There were a few things that we didn't like about MetroOpinion which we have highlighted below.

Very low earning potential and we have mentioned just how long it would take you to earn $1.
Based on a 5.6 coin advertisement that took 40 seconds, it would take 12 hours.
That would work out at $0.08/hour
Lack of real information on their website where we can't find out who the owners of ArgonClick as they are using a service in Moscow to hide behind.
Total lack of payouts which is currently around $8,000 in the time they have been operating since February 2020 should tell you that there is no potential here.
---
Is ArgonClick

a SCAM or is ArgonClick LEGIT?
Some people would say that ArgonClick was a scam and we have seen this by the number of negative reviews that are online.
However, we can't really say that this make pennies opportunity is a scam and we would leave judgement to you.
The earning potential of ArgonClick has to be one of the worst that we have seen.
PTC or paid to click sites are something that doesn't sit well with us because the ads that people click on are meaningless with pretty much no chance of any member joining that particular offer.
If working for cents on the dollar is something you are happy with then we would suggest you take a look at the 3 sites that we mentioned earlier of which we will highlight again here,  Swagbucks, TimeBucks, or RewardXP 
---
ArgonClick Review

: Final Thoughts!
In our opinion, ArgonClick is definitely not a make money opportunity that you should be wasting your time with.
We have mentioned earlier that it will take you hours not minutes to achieve $1 which is absolutely ludicrous.
There are much better alternatives out there which we have mentioned but they won't pay you very much but at least you would make more than clicking on ads at ArgonClick.
---
Feedback, Comments and Subscribe
Ok guys, well what did you think?
Maybe you are a member and if you are we'd love to hear about your experience.
As before if you have any questions at all please add them below in the comments section and someone will get back to you.
Until next time, stay safe!