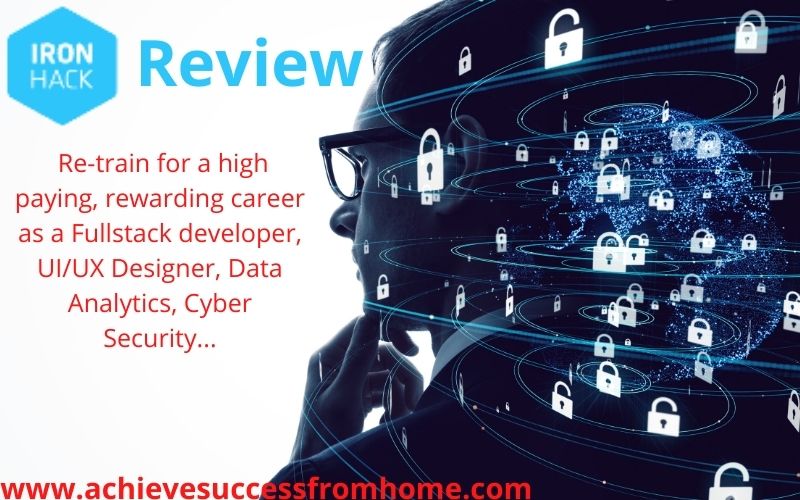 Hey guys, so what is IronHack?
An IT training platform that provides several high in-demand skillsets.
To either, enhance your current IT skills or for anyone looking for a totally new rewarding career.
Coming from many years in IT as a freelance software developer I know only too well the demand for tech skills.
In this continually moving industry without companies like IronHack then the skills would just be out of reach for many.
In this review, we hope to provide you with all the important information so that you can decide whether IronHack is worth pursuing further.
However, before we get started we'd just like to make a small disclaimer, that we aren't associated with IronHack in any way.
That means we aren't getting paid for this review but what we do promise.
Is a thorough, honest unbiased account of who IronHack really is and what it can offer you.
So, let's get started.
---
[Affiliate Disclosure: This IronHack Review has been thoroughly researched from information and testimonials that are in the public domain. This post may contain affiliate links which means we may earn a small commission, however, this won't affect what you pay!
---
Product: IronHack
Founder: Ariel Quinones, Gonzalo Manrique
Website: www.ironhack.com
Product Description: IT training platform
Cost to join: $8,000 – $12,000
Recommended: Yes
Summary: The tech industry is expanding at such a rate that means supply just can't match the demand.
That leaves a large gap in the tech industry for skills that need to be filled.
IronHack is just one of the many training applications hoping to bridge that gap by providing the right training.

IronHack Review – Table Of Contents
What is IronHack?
IronHack is a training platform that specifically specializes in several high in-demand IT skill sets.
Such as web development, data analytics and UI and UX design.
Founded in 2013 and based in Miami, IronHack was founded by Ariel Quinones and Gonzalo Manrique.
Who are postgraduates from Harvard and Wharton universities?
They provide this training in many locations across the globe like Madrid, Miami, Barcelona, Barcelona, Mexico City etc
You have 2 options for studying, either remotely or you can attend campus if that is your desire but it is all about location and costs.
This can take anywhere between 9 weeks for the full-time attendance or 24 weeks part-time if you can't devote the time.
What do they teach at IronHack?
IronHack provides a number of courses for anybody.
Whether you already have experience in IT or are a complete beginner who is looking to move into a rewarding career in IT.
All the boot camps at IronHack are in high demand and you can see this just by looking at the Jobserve website and keying in the individual skillset.
As of this review (with many new ones in the pipeline), the IronHack Bootcamps that are on offer are…
Web development
Websites are the link between the business and the outside world and without them, most businesses just can't operate.
With nearly 2 billion active websites there will always be a shortage of web skills.
Prework with access to 60 hours of online content – 4 weeks
HTML/ CSS and JavaScript – Weeks 1-3
Back-end, Node JS/Express/MongoDB – Weeks 4-6
Front-end Framework – Weeks 7-9
Become a Full-stack developer in 9 weeks full-time or 24 weeks part-time.
Check out the full curriculum here.
UI and UX design
The user interface and user experience work hand in hand with web development.
After all, the business wants the customer to keep coming back.
UI and UX developers can command as much as $1000/day on a freelance basis with permanent roles anywhere from $50k to $100k+.
Prework to get you up to speed before the main course starts
UX processing, design, Agile, Architecture, UX project
The user interface, Visual design, Design systems, UI project
Front-end Web Dev, HTML, CSS & responsive landing pages
The final project, utilizing the skills learned to build an app
Check out the full curriculum here.
Also referred to as Data Analyst or grouped with the skillset analyst/programmer.
The art of working with raw data and producing it in such a way that it means something to management.
There is a vast amount of data stored online just doing nothing and waiting for someone to make sense of it.
Just take a look at the number of Data Analytics roles are currently available in the US in the last 7 days.
This is a full-time intensive IronHack Bootcamp that spans 9 weeks and with an overall success rate of 88% in job placement.
Prepare for the boot camp

Intro to MySQL, Python, Statistics and Probability

Module #1 

Git and GitHub
MySQL
Python and Data Wrangling
EDA, Data Munging, Data Modelling and more

Module #2

Pandas which is an open-source data analysis tool
A/B testing, introduction to probabilities
Exploratory data visualization
APIs, what they are and how to use them

Module #3 

Introduction to neural networks and machine learning
Web scraping, Advanced BI skills, API authentication and much more
Check out the full curriculum here.
Cyber Security
Cyber security is currently one of the most sort after skills, with this marketplace expanding many times in the last decade.
Not only is industrial espionage big business but the criminal world is getting better at hacking.
If cyber security is a skill set of interest then there is no better time than now to get involved.
This is a 10-12 week course.
Module #1 

Introduction to cyber security
Learn about the different types of operating systems
Learn about networks and how they differ and why
What it takes to be a network administrator
Module #2

Network security what it entails and how important it is
Learn about malware
Cyber forensics
Hacking and incident response
Module #3

Advanced forensics
Risk management
Threat intelligence
In 2020 alone there was over a 300% increase in job growth.
Just to give you some idea of the vast number of Cyber Security roles are out there.
Check out the full curriculum here.
If you have no knowledge at all of IT
It will be advised that you take the FREE JavaScript course which will give you a good understanding.
Especially if you are considering going down the Web Development route.
Who is the IronHack For?
The boot camps at IronHack are for self-motivated individuals who are prepared to work hard and like challenges.
The type of people that you will find applying to these IronHack Bootcamps is recent graduates hoping to enhance their resumes.
Career people who are looking for a boost to their current career or even a complete change.
As there are so many partners, that means they will be keeping an eye on the best candidates.
Some of the graduates have even found jobs with companies like Google, Accenture, Visa, BBC, IBM, and Indeed just to name but a few.
How much does it cost to join IronHack?
The courses for many countries work out at around $8,000 when converted to dollars.
However, the courses tend to be more expensive in the US with the course fees being around the $12,500 mark.
So expect to pay around $8,000 when the course is not in the US like in London where you can find the same course priced at £6,500.
There is help with financing the courses through the various means which you will have to discuss with the IronHack administration.
The IronHack Application process
The process is very straightforward, you just have to click the "Apply Now" blue button that you can find in the top right.
Once you have filled in the application form then a telephone interview will be arranged where the admissions team.
Can find out more about you and whether your choice, of course, is the right one for you.
After the interview, there is a technical assessment to see if you are the ideal candidate for the intensive course.
Providing you passed the assessment, then there will be a deposit to pay then you will receive the prework that has to be completed first.
Help With Finding A Job
There is a careers service that you become part of straight from being accepted into the IronHack Bootcamp.
This is known as "CareerHack".
This is an important addition and it gives you confidence that you aren't left to your own means.
This comes in three stages, before, during and after the course so there will be someone at your side all the time.
With over 10k students who have found their ideal jobs and with over 600 companies who partner with IronHack, this should be a breeze.
Is IronHack a Scam?
IronHack is definitely not a scam but a legit opportunity for anybody who wants to boost their current career.
Or anyone who is looking for a complete change in career.
We have added a few other similar IT training platforms which might be more appropriate with costs etc.
There is even a training platform where you don't even have to pay for the course until you actually find a job.

IronHack PROS and CONS
PROS
Great Feedback From Past And Present Students:
For confirmation that IronHack could be the right training platform for you, we'd suggest heading over to CourseReport and Switchup.
The skills taught at IronHack are in high demand and will continue to be so for the foreseeable future.
Just remember, graduates who don't have any previous experience will be starting as Junior developers which are around $20k – $25k.
After a year's experience expect those rates to jump considerably or look elsewhere or maybe go freelance.
However, going freelance might be a step too far as I know only too well as I spent many years freelancing but only went after 6 years of experience.
But that may certainly not apply to you!
Success With CareerFoundry:
The success rate for graduates is over 80% with finding the right job.
Interest From People Is Good:
As you can see by the image below, interest is certainly still showing with a bit of a dip in 20/21.
This was probably down to the pandemic, with more people turning to the internet and more training companies coming onstream.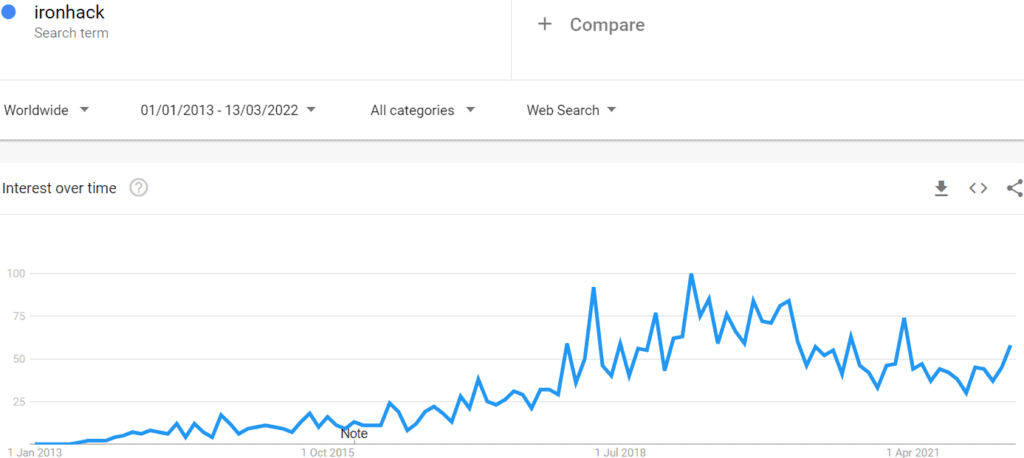 CONS
There Could Be More Skills Taught:
The skills that are on offer at IronHack are certainly in demand.
We can see this with most of the other IT training platforms that we have reviewed all promoting the same type of courses.
We would like to see a number of other courses to widen the skill sets that are on offer.
IronHack Review – Final Thoughts!
Well, what did you think?
Is IT an industry that you really want to work in?
You have certainly shown interest otherwise you wouldn't be here and there is no better time than the present if you decide to go ahead with IronHack.
I mentioned earlier that I spent many years as a freelance software developer and I had a great time working in other countries.
Adapting to their cultures.
You might be asking if freelancing was such a great career move then why aren't you still doing it?
The answer is simply that I was away from the family too often and wanted to find something where I could work from home.
If you are interested in what I am doing today then please continue to read on…
How we make Passive Income Online?
The main reason for going freelance was to take back control but at the end of the day, you are still working for someone else and still 9-5.
Affiliate marketing allows you to work on your own terms but more than that, it allows you to create multiple passive income streams.
Where once setup there is very little intervention and it will generate multiple incomes 24/7.
Wealthy Affiliate is the training company that can provide this and one I am still a member of and will continue to be.
No commitment is required here as it is free to look and if you don't like it then just call it a day, but you won't know unless you try.

Feedback, Comments and Subscribe
OK Guys, hope you enjoyed this IronHack review and that you benefitted from it.
If you need to add anything or maybe discuss my freelance career, then just leave a comment below and we will get back to you.
Once again, thank you and stay safe.