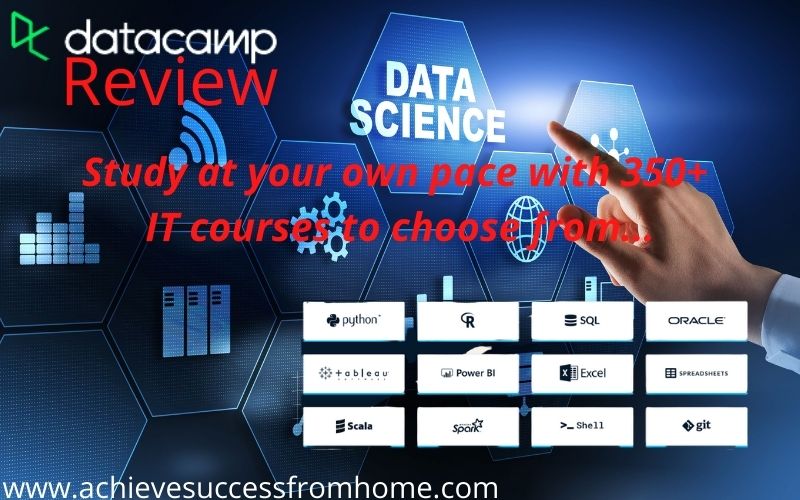 Hey Guys, welcome to this
Datacamp review
Datacamp is a training platform with courses for all levels of experience in data science.
The IT industry is booming and will continue to grow with many opportunities in data science.
Just take a look at Jobserve where there is currently around 90k roles in the US alone.
So, if you are looking for a change in career or want to expand on your current knowledge then Datacamp might be right for you.
But before we get started, we'd just like to make it clear that we are not associated with Datacamp in any way.
That means that we are not getting paid for this review, but what we do promise you.
Is a truly unbiased, honest account with all the facts so that you are in a better position to decide whether Datacamp is right for you or not.
So without further ado, let's get started.
---
[Affiliate Disclosure: The Datacamp Review has been thoroughly researched from information and testimonials that are in the public domain. This post may contain affiliate links which means we may earn a small commission, however, this won't affect what you pay!]
---
Product: Datacamp
Founder: Martijn Theuwissen, Jonathan Cornelissen and Dieter De Mesmaeker
Website: www.datacamp.com
Product Description: IT training platform in Data Science
Cost to join: Free or Premium @ $29/month or $300/yearly upfront
Recommended: Yes
Summary: When it comes to education, the internet allows everybody to start on the same playing field.
Studying from home is the norm nowadays with no pressure of travelling to classes and being able to work at your own pace.
Overall you will find that the courses are generally well priced and affordable for most people's budgets.
However, if you are tired of the 9-5 routine and would love to work on your own terms…

Datacamp Review – Table of Contents
What is Datacamp About?
Datacamp is a training platform that specializes in data science and analytics and was founded in 2013.
With courses in Python, SQL, and R, leading to well-paid careers as a Data Scientist.
Founded by Martijn Theuwissen, Jonathan Cornelissen and Dieter De Mesmaeker, who are all flemish and come from the Brussels region.
They operate in over 180 countries, have seen over 9 million students and are used by fortune 1000 companies.
Also with offices in New York, Belgium and the UK.
The number of instructors is currently at 270 of which many are Datacamp specialists with many coming from top institutions.
Like Duke and Cornell Universities.
All the courses are interactive and can be studied at your own pace which is short to help keep your interest.
So if it's programming that you are interested in or becoming a data analyst or maybe a data scientist then Datacamp can help.
What do They Teach at Datacamp?
As of this review, there are over 350 courses that cover many skills relating to Data Science.
Programming
Data Scientist
Data Statistician
Statistics Fundamentals
Data Analyst
Data Engineer
Data Manipulation
Data Visualisation
The courses are not too in-depth and are designed in such a way that makes them easier to learn.
They combine videos and interactive exercises that will give you a feeling that you are actually in a classroom but without the pressures.
All the courses fall into three categories…
Learn a new technology
Master a skill
Launch a new career
Some very popular courses are Python, R, SQL, and introduction to Data Science
If you are thinking of going down the programming route which most people tend to do when the languages taught, are really sort after skills.
Python is actually the current top programming skill that has overtaken languages like C, C++ and Java and SQL is always sorted after.
You can even join as a free member and take the introductory courses in Python, SQL and R to see what you think.
Who is Datacamp For?
The IT Industry covers an enormous number of different subjects and skills and choosing the right one is key.
Some of the methods, programming languages etc you can find are well dated and not current.
That's why you need to research what it is you want to do very carefully.
Another thing to be aware of is the popularity of certain courses which also means competition when you are looking for work.
Take on board the level of the course and whether you can build on that experience with more advanced courses.
Choosing an intermediate course when you should have taken the beginner course can create issues later on down the road.
The 4 main principles at Datacamp are Assess, Learn, Practice and Apply which help give the students a better overall learning experience.
With daily challenges and real-world data issues to contend with.
Once you have completed the course whichever one you choose at Datacamp they have a career service to help you land that ideal job.
How Much Does it Cost to Join Datacamp?
Training courses related to IT can be expensive, in fact, they were extremely expensive as I remember when I attended several IBM courses.
However, the internet with an enormous catalogue of courses offered by many training schools.
Help to bring the course prices right down which is great for many who are on tight budgets.
Datacamp is a membership site that offers 4 different memberships but essentially there are free and paid memberships.
The free might be ok just to get a feel of what is on offer and what types of courses and career paths you might consider.
If you are serious about a career in IT, you really need to become a paid member which can be paid monthly or annually.
It might be worth starting with the $29 a month subscription fee and maybe upgrading to the yearly fee which would save $48.
Be aware that this membership is auto-renewal, which many students weren't aware of, due to the complaints we can see,
Some found their bank accounts reduced by $300 due to the annual fee automatically being paid.
Obviously, these people didn't read the small print or did but forgot about the renewal date.
Anyway, this is clearly stated when you join.
Datacamp Student Feedback
One thing you aren't short of is positive reviews from current and past students.
With an average rating of between 4 and 5 stars but amongst those, you are going to find negative feedback but I wouldn't be too concerned.
Most of the negative feedback is related to subscriptions with auto-renewal which many are saying isn't clearly stated.
If it wasn't then it certainly is now.
Here are a few resources where you can find student feedback…
Is Datacamp a Scam?
Datacamp is definitely not a scam although you will see many reviews indicating otherwise.
Those are mainly down to students either not knowing or forgetting about the auto-renewal for both the monthly and yearly subscriptions.
There is certainly a lot of positive feedback about Datacamp and a place that we would recommend if you are looking to get into the IT Industry.
If you are considering a change of career then we would suggest going down a path that includes the python programming language.
Mind you if you are tired of the pressures of the 9-5 and really want to make money on your own terms then the link below might be of interest.

Datacamp PROS and CONS
In this section, we have highlighted what we believe to be the most important issues.
This should hopefully help you to make the right decision.
PROS
Experienced Instructors:
As of this review, there are around 270 instructors that come from all walks of life, in fact, you can become one yourself with a little experience behind you.
Many of them are actual Datacamp instructors but many do come from recognized institutions as well.
We believe that you get a lot of value with this training platform as you get access to over 350 courses that will only cost you 83 cents a day.
Now if that isn't a bargain then we don't know what is.
Good Training Platform For Beginners:
This is a platform where you will find many complete beginners because a lot of the courses are pretty basic.
There is a mix of levels, with beginners, intermediate and advanced although we don't see the advanced being that great.
For more advanced courses you will have to look elsewhere.
Cancel Your Membership At Any Time:
Datacamp is a membership site that you can pay for monthly or in full for 1 year but you can cancel your membership anytime you like.
No Software Is Required To Be Downloaded:
What you often find when doing a programming course is that you need to download software onto your pc for it to run correctly.
There is no requirement to do that at Datacamp because everything is on their own servers.
People Are Still Showing Interest: 
As you will notice in the image below, this graph represents interest from people searching on Google for Datacamp.
You can see by where it peaked in 2020, this was about the time that the pandemic kicked in.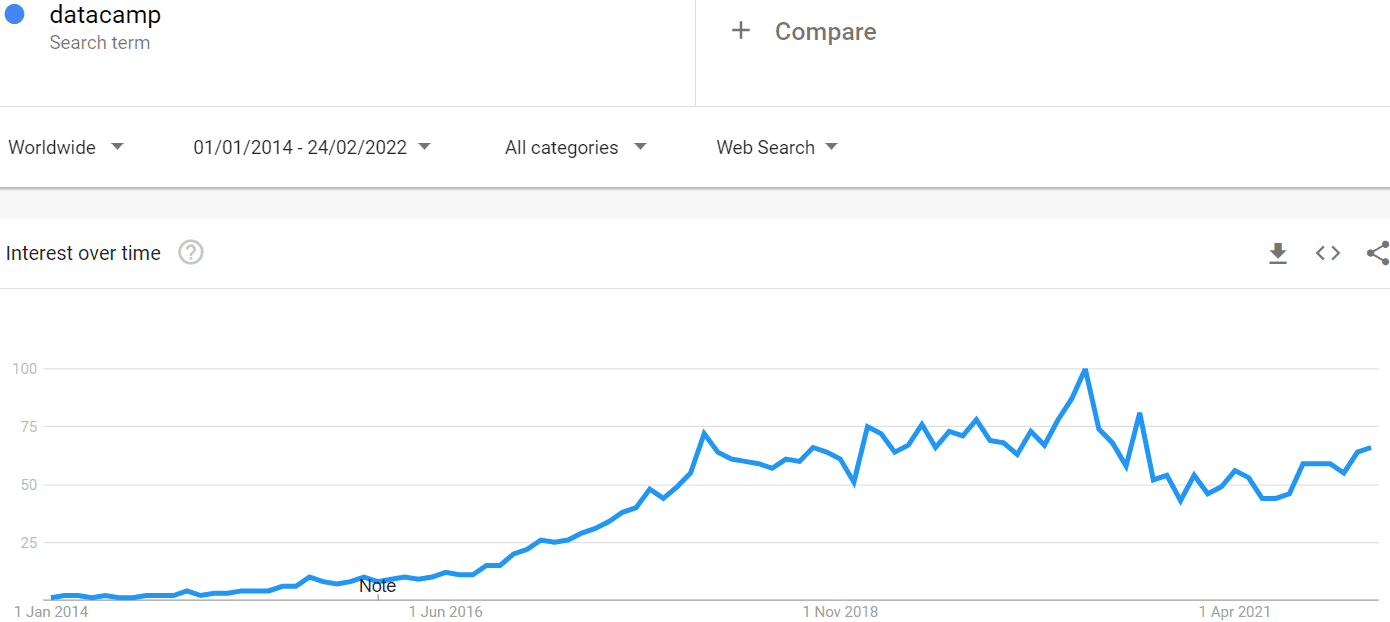 CONS
Course Certificate Not Recognized:
That's right. although you do get certificates for completing the course that is all they will say.
If you want a recognized certificate then you will need to take a course at a university or similar establishment.
Having said that, companies will most likely have heard about Datacamp so any reference would be favourable.
The Course May Not Be In-Depth Enough:
The courses are fairly short and designed that way to stop you from getting disinterested which means they will be missing in details.
You will probably find that you will need a more advanced course to extend your knowledge.
Udemy has some great courses which are individually priced but you do get lifetime access, which Datacamp only provides if you are a paying member.
Datacamp Review – Final Thoughts!
Datacamp is by no means the best training platform but for anybody who is looking for a new career and has no knowledge in data-science related subjects.
This could be a good start and the courses aren't too long which will help keep the interest there.
I myself have many years of experience as a freelance software developer and let me tell you I had a great time, especially working in other countries.
The travelling and staying away from home took its toll or maybe it was the novelty factor that wore off, who knows.
But I choose to give up a very well paid career for another well-paid career that exceeds what I ever earned in IT.
If you want to know more then we'd love to share with you what we do now in the next section, if not then good luck.
How we Make Passive Income Online?
Passive income is the dream for many, where the business generates many income streams and runs 24/7 without very little intervention.
We found the affiliate marketing business model to be the best method for achieving this.
The best training platform for learning this skill is Wealthy Affiliate which has been active since 2005 with over 2 million members.
They are responsible for thousands of success stories where members are earning 4, 5 and 6 figures a month.
If you want to know more then please click on the link below.
Don't worry we are not about to ask for any money as it is free to check out and to evaluate the training platform.
Nearly forgot, you won't even be asked for your credit card details either.
What do you have to lose, but you won't know unless you take a look, right?

Datacamp FAQs
Is The Membership Fee Worth It?
The one thing people do not realize is that you can't keep looking for FREE and you have to invest in yourself.
If you pay annually which is currently $300 that means you get access to over 350 courses for around 83 cents a day.
Of cause, if your budget won't stretch to the annual subscription then you can always pay month by month which will cost $29.
Is The Certificate Recognized?
The certificates are not recognized in the real world but at least you'll get something to confirm that you did take the course.
Remember, Datacamp is recognized throughout the IT industry as an accomplished place to be educated.
Does Datacamp Offer Any Free Courses?
Yes, they do with the following…
Data Science for Everyone
Machine Learning for Everyone
Data Engineering for Everyone
Introduction to Python
Introduction to SQL
Introduction to R
Do Some Of The Courses Require Any Previous Experience?
Most of the courses state whether there is any previous knowledge required but this is by no means mandatory.
It just means that you may be taking on a course that may well be too advanced for you.
Can I Get A Job After I Have Taken A Course?
There is a careers service to help you in that department but nothing is guaranteed.
I remember when I once took a 3-month advanced computer analysis/programming course, it took me around 4 months to find a job.
Remember that even when you have completed the course and you think you know it all, you don't because this is just a course to open doors.
Your first job is when you really start learning.
Feedback, Comments and Subscribe
If you are reading this then we would like to thank you for your patience and hope that you got some benefit.
If there is anything you'd like to ask us then just drop us a line in the section below and we will get back to you.
Once again, thank you and stay safe.