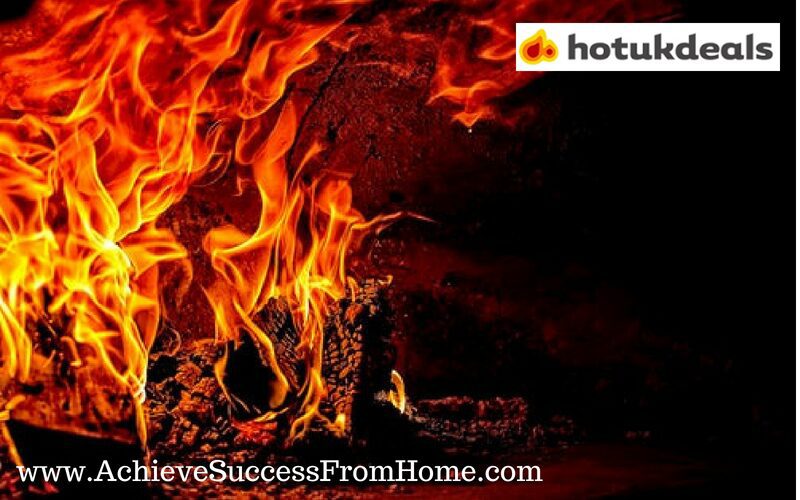 What is HotUKdeals; in a nutshell, this is where members of the community help each other find great deals that they come across whilst surfing the net! Looking for a great deal then check out HotUKDeals first, you never know it could save you a lot of time.
I don't know about you but I love great bargains, but sometimes finding them takes a lot of research, but how cool would it be if someone had already found that great deal you have been spending hours looking for?
We are all searching for ways to get a little extra help when shopping online, especially when the internet today is where we tend to do all our shopping, right?
I guess you have spent many hours checking out those Cashback/Reward sites or have you had enough or are you just looking for something a little different, then you are in the right place.
You the members are in control here where helping each other finding those great deals goes a long way!
---

Parent: www.pepper.com (the worlds largest deals community)
Product: HOTUKDEALS
Website: www.HotUKDeals.com
Price: 100% Free
Founder: Paul Nickel
Founded: 2004
Based in: Arizona, US
Summary: Where members discover internet bargains and share them with the community.
Recommended: Yes


---
Internal Summary and Links
---
Some Facts about HotUKDeals
Currently over 2.4 million members.
Over 1.9 million deals created.

Over 30,758,209 c

omments.

Over 3.2 million followers on Facebook.
Over 87,000 Twitter followers.
Nearly 6k Google+ followers.
The leading deals platform in the UK where you the consumer are in control.


---
What is HotUKDeals?
Another consumer saving site brought to you by Paul Nickel, the same person who is responsible for that other popular UK Cashback site Quidco.
Founded way back in 2004 so you would think comes with some credence, right?
Although HotUKDeals and Quidco have similarities in as much as they both help you save money and with Quidco a little cash too.
The main difference is that Quidco brings the retailers and offers to you, whilst you (the member) help bring the deals and offers to the HotUKDeals community, and of course, no waiting 90 days for cash back to arrive in your bank account either.
HUKD is part of the Pepper.com group, which is the world's largest shopping deals community, covering 14 countries across 4 continents and used by 25+ million members each month influencing thousands of purchasing decisions every minute.
---
How Does HotUKDeals Work?

A place where you the consumer are in control!
Those great deals are out there, you just need to find them, well the purpose of this site is to bring those deals, vouchers and other consumer info, and share them amongst the HotUKDeals community.
Here those deals can be discussed amongst the members by sharing their experiences and giving their honest opinions.
The idea behind the site is to help you the consumer get away from the marketing hype with popups and emails we are bombarded with in everyday life, and to get genuine honest advice from members about (hot or cold) deals.
By doing this you are in control of the deals pushing them into the "Hot" or "Cold" positions.
Retailers love their products pushed into a "Hot" position because it helps them sell more of that product, on the other hand, a "Cold" deal would be frowned upon and that is something the retailer does not want to see.
Whilst a "Cold" deal is bad for the retailer, it can be good for the consumer because the retailer will become aware of this and this could help drive the price down or some other added benefit.
Of course, you don't have to go out and find those great deals to share with the community as there is an abundance of deals already available, but if you do see something that you think others might be interested in, then show some love. Remember giving is much better than taking!
---
How Does HotUKDeals Make Money?
HotUKDeals like most other sites similar work in the Affiliate Marketing domain, where normally they would get paid by the retailer for displaying offers and websites on their site.
They normally would be paid for Pay Per Click (PPC) advertising which means that HotUKDeals would get paid by the retailer for the member just clicking on a retailer's offer or website where a product purchase doesn't need to happen.
It doesn't seem to be set in concrete just how HotUKDeals actual gets paid because I can't find anything online stating this.
Most deals submitted to the HotUKDeals site tend to have an affiliate link attached and according to HUKD that is the only way they get paid.
That implies that they get paid for some product deals and not others, which in my eyes is not a way to run a profitable business.
---
How to Get Started
All that is required is a valid email address,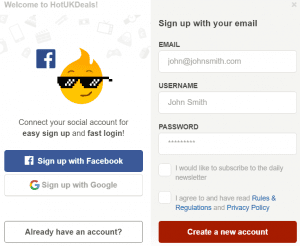 user-name and password.
Other options are to sign up using your current Facebook or Google account, but I would refrain from using those accounts.
I mean, do you really want family and friends to know what you are up to?
I would also check and subscribe to the newsletter and be kept abreast of all the new deals and offers that are being added.
Of course, you also need to read the rules and regulations too.
Communicating with other members of the forum is a major part of how this site operates, and HotUKDeals are very strict in how you conduct yourself, and therefore I would check out the code of conduct rules first.
Don't forget to get hold of the HotUKDeals mobile app for when you are out and about. Your personal access to great deals, vouchers, freebies and a host of other great things. Installed by 30,000 members giving it a near perfect score rating.
All you need to do now is search your favourite brands in the search bar or click on the drop-down menu's.

Remember, find a great deal anywhere online then don't forget to share it with the community!
---
Some Suggestions to Get the Best out of HotUKDeals!
The site is literally crawling with great deals. A little helping hand to set you on your way.
Remember that when you first become a member, every deal, both active and expired will be showing. To see only active deals just change the filter in the top right of the display under "+ Submit"
Check the retailer first before purchasing
It pays to not be too comfortable with handing over your credit card details.
If you don't recognize the retailer then a quick Google search should give you some piece of mind, and save you what could be a load of hassle!
Why not check out the competitions that are constantly being updated. They are free to enter.
Don't forget to check out the miscellaneous
Members are always adding some great deals and offers in the miscellaneous section and many are free too.
Become part of the community forum
This is where all the discussions take place regarding deals and all the great advice to help you find that bargain of a life.
Who doesn't love a freebie?
Tell me that you don't love freebies and I will eat my hat if, in fact, I had one!
Just checked this minute and there are well over 600 freebies, such as free breakfasts at Morrisons,  games, and even get yourself a free smart tag for your dog and registration to microchip central.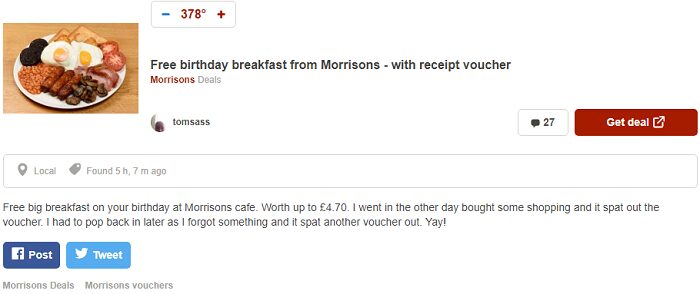 Don't forget to mark the 4th Friday of November in your diary, and see what great Black Friday bargains are on offer, especially with it coming up to the start of Christmas shopping. Both online and in-store.
Find some amazing deals on computers, tv's, clothing and much more.
Don't forget to check in on Cyber Monday which is only a few days after Black Friday and only for 1 day with some massive deals across many popular brands.
With Black Friday and Cyber Monday very close together, you could save yourself a fortune on Christmas presents!
Check out the current days amazing lightning deals
Have you ever been to one of those high street stores when they have had a massive sales day, where hundreds of customers have camped outside hoping to bag that bargain of the century?
Well, how about getting in first to Amazon's lightning deals before the Amazon crowd does, but be quick because the deals are only showcased on HotUKDeals for 30 minutes before the mad rush, so get your skates on.
The only catch to grabbing that bargain before the mad rush is that you have to be an Amazon Prime Member.  No problem though, most of us already are!
---
How to Create a Deal Amongst other Things?
What drives this business is the community 
and an eye for a bargain, and the fact that they want to share the deal amongst the other members.
Without your input then the site wouldn't function!
Out there shopping on the internet and researching products and see a great bargain then share it amongst the community.
Deal  – Share that great bargain you came across whilst searching for something on the Internet. WOW! Like a new Nissan Qashqai!

Voucher – Any bargain vouchers that you come across just let the community know about. Like a saving of around £40 on an adult ticket at Flamingo Land!
or…
Discussion – Create a new thread within the forum.
Feedback – Let the site know about any issues you may have.
---
HotUKDeals Pros and Cons
As with all businesses whether online or not have their fair share of complaints, and whilst here at HUKD, there isn't really much to shout about.
Pros
Free to join
Great deals
Check out the Freebies, you are sure to find something you like.
Get in first before Amazon users with the lightning deals.
Great deals on groceries.
Black Friday and Cyber Monday deals
Cons
Some members have lost money by not checking out the retailers before purchasing. If you don't know a retailer check them out first!
---
What is HotUKDeals – Final Thoughts!
I must admit that when I first came across HotUKDeals I thought it was some sort of gimmicky site, with little credibility, but since joining and reviewing this business, I can see a very worthy site that you should maybe consider.
Straight off the bat, I found some great deals as well as some brilliant freebies along with some very useful voucher deals. All in the space of 10 minutes of joining.
Affiliate marketing is the domain they operate in, which is a very straightforward business model that everybody can learn.
We all love to save some money and earn a little extra cash, but what about learning something that you can benefit from in years to come?
After struggling for many years I eventually found a training platform that really works, and with a community I now call home. FREE to join and they never ask for your credit card details and NO UPSELLS! Best decision I ever made!

Not sure then check out a review I wrote about Wealthy Affiliate here 
---
Comments
Are you a member of HotUKDeals? What do you think? Are you happy with the service?  Found any great deals? Maybe you are thinking of joining?
What did you think of the review and did it deliver?
Love to hear your thoughts and welcome all comments and will reply to them all.
All the best and stay safe