Welcome to this
Bitnamix Review
.
You can't hide the fact that the crypto market over the last year has been soaring to great heights and very clear that more and more people want to get involved.
This opens the door to a lot of scrupulous businesses trying to get in on the act with a massive number of MLMs appearing.
Bitnamix, is just another business in this industry who promise you the world with rediculous returns, but is this all just a bunch of words or is there any truth to it?
First and foremost, I would like to declare that I am not affiliated with Bitnamix and therefore what you won't find me doing, is pitching or trying to sell you anything.
However, what you will get is an honest unbiased review that should put you in a position to decide one way or the other if Bitnamix is worth exploring further.
So let's get right into it and see what you think.
---
[Affiliate Disclosure: This post may contain affiliate links which means I may earn a small commission if you purchase anything through one of the links. However, this will not affect what you pay!]
---

Product: Bitnamix
Location: Unknown
Founder: Couldn't confirm, apparently its a crowd of individuals
Founded: July 2020
Website: www.bitnamix.com
Product Description: A Crowdfunding Crypto MLM Business
Cost to join: $25.00/month + investment packages (as of this review) $21 – $93,761
Best For: Nobody
Recommended: Definitely not
Summary: Whenever you review a business opportunity, no matter what it is, always do your own research thoroughly that way they will be no surprises.
Pay particular attention to the people running the business.
If the company is not openly upfront about the basic information like who owns or runs the business, then be very careful when making your final decision to join or not. In fact, I would walk away!
---
If you are sick and tired of SCAMS, Pyramid schemes, MLMs, recruiting, having to purchase stocks, haggling family, friends and customers. Looking for a proven method of making money online, then check out my #1 recommendation. 
---
Internal Summary and Navigation
---
What is Bitnamix about and who are the Founders?
Bitnamix is a crypto multi-level-marketing business offering an opportunity where they claim you can make a ton of money and which is fully automated.
We couldn't find anything on their website or anything anywhere for that matter that told us who the founders were or even where they are based.

They claim that they don't need anybody to manage the system and that everything is done for you automatically.
Let me tell you, with 30 years experience in software development that I have never come across a system that didn't need managing.
They claim that "Bitnamix was founded by a group of some of the
industry's most successful, leaders, marketers and
cryptocurrency enthusiasts"
If that is the case then why are they hiding? You'd think they would want everybody to know who they were, right?
Well, a little discussion with a Bitnamix affiliate through joining one of their Facebook groups and I found out that Diosnedy Pelegrin and Alfredo Delgado were the names put forward.
Well a quick look at their Youtube channel and they are both promoting
If you would like to know a little more about who they are then maybe this short video will unfold some of the things we couldn't find.
Just who are Diosnedy Pelegrin and Alfredo Delgado?
Well, they do appear to be real people and Diosnedy Pelegrin might well be one of the founders looking at his Bitnamix Partner ID = 3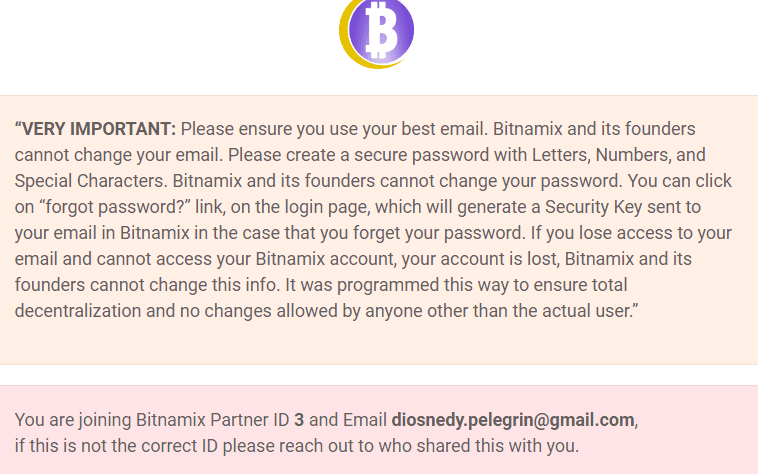 They both have had involvement with some shady businesses in the past and love bragging about their wealth which I have seen so many times in the past and something I choose not to get involved with, but hey, that is only my opinion.
---
Is Bitnamix a Pyramid Scheme?
Pyramid and Ponzi schemes have all been the rage for decades and still, the authorities can't seem to get on top of the situation.
With so many, especially in the MLM business model, you can understand why it takes so long for the authorities to get around to a company and usually when they eventually do it's far too late to do anything about it.
The FTC or Federal Trade Commission state that a person can not be paid solely on the recruitment of others and that there has to be a product or service of value.
What we often find is that a multi-level-marketing business hides behind such a product and service that have no value whatsoever. That would be deemed a pyramid scheme in disguise.
With Bitnamix, they have neither a product nor service and rely heavily on recruitment.
Therefore Bitnamix has all the hallmarks of running a Pyramid/Ponzi Scheme.
Check out this short video
---
Success is Unlikely with Bitnamix
All multi-level-marketing businesses are difficult to succeed in because the main source of income comes from recruitment.
Just try and pitch any business to someone you don't know and see what happens. Cold calling has never worked.
Experienced marketers who are invited to join at the pre-launch always come with a large following. Big email lists, and in many cases these network marketers are actually paid by the business owners.
The odds are always stacked against you but I'm not saying you can't or won't be successful, it's just that it highly unlikely.
---
Let's look at the Bitnamix products
There are no products or services that we know of and the only way is to focus on the affiliate program, recruit others and make commissions off their memberships and investments.
---
Bitnamix Business Opportunity – What you need to know
Bitnamix claims that their comp plan is the best and the most lucrative and can expect to double or even triple your returns while there is the possibility of earning between $100k and $1 million in your first week.
That been said, let's continue…
---
How to Become a Bitnamix Affiliate
To join Bitnamix, you need to find a sponsor first then it's pretty much a straightforward process.
As this is a membership site then you would need to pay a monthly fee of $25 in Bitcoin, which allows you to take part in the first part of their compensation plan.
---
How to Make Money with Bitnamix
The main way of making money at Bitnamix is through recruitment followed by the 2-part compensation plan.
Uni-level, which gives you 6-levels of passive income
A 13-level matrix which is what you buy into
---
Bitnamix Compensation Plan
The uni-level comp plan comes as part of the $25 monthly membership fee which is paid daily. This apparently has a maximum of what they call 13 boards but we'll let it be explained in the video below.
What you should notice is that these 2 compensation plans will not work without recruitment.
Check out this video that explains the uni-level comp plan
The 13-level matrix comp plan is the investment side of Bitnamix which is paid in Bitcoin or fractions of Bitcoin, which is based on the current Bitcoin value, as of this review…
BTC @ .0006  = $21.72
BTC @ .0015  = $54.30
BTC @ .003 = $108.60
BTC @ .005 = $180.99
BTC @ .01 = $361.99
BTC @ .02 = $723.98
BTC @ .04 = $1442.48
BTC @ .08 = $2884.96
BTC @ .16 = $5769.92
BTC @ .32 = $11,539.84
BTC @ .64 = $23,079.67
BTC @ 1.3 = $46,880.58
BTC @ 2.6 = $93,761.17
Check out this video that explains the 13-level matrix comp plan
---
Are Bitnamix Affiliates Actually Making Money?
According to who you listen to or what you read, and as Bitnamix is a relatively new company then we don't have much data to go on.
What we do know and it's well documented is that the top 1% is where the real money goes with around 90% who end up being out of pocket.
---
What I like about Bitnamix
There is absolutely nothing I like about the Bitnamix.
Even the business name sounds sort of dubious.
---
What I don't like about Bitnamix
Lack of transparency
The website doesn't give you an insight into how Bitnamix operates or who the owners are or even where they are based.
The only way to find out is to become an affiliate
What happens to 5%

According to Bitnamix, the system is all automated and doesn't require any management, but still, they say that there are admin costs to take care of.
Pyramid Scheme in disguise
They have all
Not regulated
Many of these crypto MLMs are not regulated with the correct authorities to trade and many of them are registered in countries like Panama where laws and regulations are very slack.
MLMs are extremely difficult
The ones who enjoy success are the owners and the ones invited at pre-launch.
The promise of ludicrous returns
The best traders in the world can't promise consistent returns so what makes you think that Bitnamix can do otherwise?
Even if they were trading in Bitcoin then returns would only come back if the Bitcoin value was on the rise, but crypto is very volatile and when it turns which it will, then what happens then is their affiliates don't get paid.

What happens then is the owners have to decide to delve into their Bitcoin reserves to keep the ship afloat and to stop people from leaving with some ridiculous excuses.
This can (if at all it does) continue in the short term with the hopes that Bitcoin will start climbing again but there will be a get-out clause in place.
Do you really want to risk your money in a scheme like this?
---
Is Bitnamix a SCAM?
People are always looking for the get rich quick schemes and more and more people are seeing this with crypto, especially MLMs and prepared to take big risks too.
We are reviewing more and more of these crypto MLMs and finding they are all promises massive returns with their own AI bots that work on autopilot which in many cases do not need anyone to manage them.
Head the saying, "If it looks too good to be true, then it probably is"
If you get in at the very start then there is a chance you may make some money but highly unlikely as everything is stacked against you, unless you are one of the lucky ones who were invited at pre-launch.
I can't categorically say that Bitnamix is a scam because this is a new venture but only time will tell.
---
Bitnamix Review – Final Analysis
MLMs are a risky business and the chances of you becoming successful are slim but a business model that I would recommend you looking at is affiliate marketing.
However, it is not a get rich scheme and you would have to work hard but the rewards can be outstanding.
Wealthy Affiliate has been around since 2005 with many success stories and without doubt probably the best training platform there is for learning how to become an affiliate marketer.
---
How I make a Living Online
Check out these success stories from members of Wealthy Affiliate. Just typical of what to expect.
If you are interested then you can check it out for free here.
---
Feedback, Comments and Subscribe
Hope you enjoyed this Bitnamix review and you are in a better place whether to join or not.
Any comments or questions please put them in the comments section.
Until next time, stay safe.