Hey Guys, welcome to this Dataquest review
Bored with your job and looking for a change or just looking to advance your career then Dataquest might be able to help.
Dataquest provides a number of courses that can help you find a high paying job within the IT industry as a Data Scientist.
So if you are here to find out whether Dataquest is a legit training platform or not then in the next few minutes you will have all the answers.
With that said, let's get started.
---
[Affiliate Disclosure: This Dataquest Review has been thoroughly researched from information and testimonials that are in the public domain. This post may contain affiliate links which means we may earn a small commission, however, this won't affect what you pay!]
---
Product: Dataquest
Founder: Vik Paruchuri
Website: www.dataquest.io
Product Description: IT training platform
Cost to join: Free or Premium @ $49/month or $399/yearly upfront
Recommended: Yes
Summary: There is no getting away from the fact that the technology industry which is the #1 industry is where people want to be.
Without technology, we just do not advance as a race.
The internet gives us access to literally anything we want to learn with no restrictions and waiting to get that all-important skill.
What may have cost you thousands going to university (if you were lucky enough to get in) can now cost just a few hundred dollars and less.
Studying from home is the new normal when it comes to advancing our education and without any pressure because we can study at our own pace.
But this is not something to be taken lightly and you need to research thoroughly because many of the courses are just not worth it.

Dataquest Review – Table of Contents
What is Dataquest About?

Dataquest is an online training platform providing courses relating to data science such as programming skills in Python, R, SQL, Git plus a lot more.
It was founded in 2008 by Vik Paruchuri, a postgraduate of 8 years at the time, who had no idea what he wanted to do in life.
Vik claims to be self-taught in data science subjects and the winner of several Kaggle competitions.
Which is a company or subsidiary of Google that provides a community for data scientists and machine learning practitioners.
Certainly, a place to get noticed!
Featured in the New York Times, Wall Street Journal, LA Times and other news channels.
Dataquest is not to be confused with Datacamp which are very similar platforms offering similar skills.
Many prefer Datacamp primarily because it is cheaper but we will cover that a little later on.
What do They Teach at Dataquest?
So what is Data Science?
In simplistic terms, data science combines multiple fields which include statistics, AI, scientific methodologies, and data analysis.
All of which are used to help you extract value from the mountains of data just sitting there in tables in most cases doing nothing.
With the various tools such as programming languages like Python, SQL, and R.
They offer a means to help you extract the data and display it in a format that people can understand and relate to.
Through the various methods of preparing the data, using scientific methods, processes and algorithms.
You are able to expose patterns that will help business management to forecast informed insights.
This is the task of what is commonly known as a Data Scientist which is a fancy term for an Analyst Programmer.
Now you know what a Data Scientist is, is this what you really want to do for a living?
I know I did and for many years and it can command very high rates of income but those are long term goals.
At Dataquest, they have 4 clearly defined career paths…
Data Analyst in R
Data Analyst in Python
Data Scientist in Python
Data Engineer
Which are all beginner-friendly and clearly laid out with the courses that are available to you.
Take for instance a career path in Python which just so happens to be the top programming language that is out there.
This career path if you choose to take is 138 hours long and comes with 24 individual courses.
If you spent 8 hours a day then the course could be completed within 30 days.
The courses are designed in such a way that anybody can learn the fundamentals, and will set you up for that first role.
However, the big money will elude you until you have a few years under your belt.
Just to give you some sort of idea of how popular the IT Industry is for people with skills in Python.
In the US alone there are over 25,000 permanent and freelance roles which you can check by clicking the link here.
According to Dataquest and obviously depending on your experience, you can expect rates to vary between $65,000 – $100,000.
But starting at around $25,000 and $30,000.
Who is Dataquest For?
Dataquest is pretty much for anybody who wants to branch out into the IT Industry as a Data Scientist.
Or someone who is already working in IT that wants to advance their skills and make them more employable.
The courses are short which should appeal to many which are easier to understand and help you stay focused.
They are also tailored to the level of expertise that you already have with most of them suitable for complete beginners.
However, if you are already knowledgeable in a particular area then a more advanced course may be required from another source.
Somewhere, maybe like Datacamp who offers similar courses with some which are more advanced.
Dataquest provides a cost-effective way for anyone to study at their own pace in the comfort of their home.
Schools and universities are a thing of the past with their stringent guidelines and interview processes that you have to go through.
Not to mention the fee of such a course that might end up costing you 20 to 30 thousand dollars.
The courses at Dataquest in our eyes are not long enough and don't cover the topics in that much detail.
You should realize that the courses whilst good are to be used as a stepping stone to more advanced courses.
We don't want people to believe that once they have completed a course that they know everything because they don't and this is only the start.
How Much Does it Cost to Join Dataquest?
To get a feel for Dataquest you can join for free but you will have restrictions with your membership.
To have access to everything you would have to signup for the premium membership which you will have to pay for either monthly or annually.
Obviously, this will be down to the budget that you are on, but paying for the year will save you $189.
Remember that those fees, whether monthly or yearly are on an auto-renewal process.
That many students past and present either weren't aware of or didn't know about, but now it is clearly stated when you sign up.
Just bear that in mind because it can be frustrating when you see $300 come out of your account at a time that you may have needed it.
Dataquest Student Feedback
Dataquest is up there as one of the better training platforms to learn data science and this is noticeable in the feedback from students.
The courses are designed in such a way that they force you to take part in practical exercises.
As they are instructional and not a bunch of videos that you can sit through and end up doing very little with.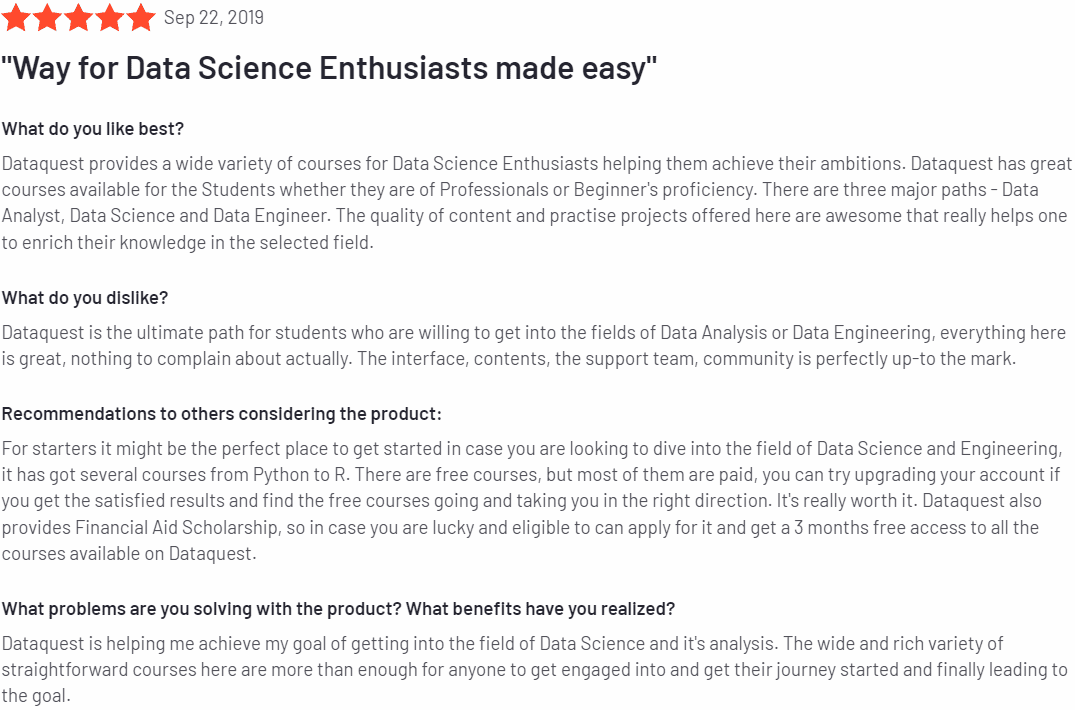 Here are some additional resources where you can get validity as to whether Dataquest is legit or not.
By the reviews that past and present students have written.
Is Dataquest a Scam?
Is Dataquest a scam? Absolutely not!
There are a lot of so-called training platforms that offer so much but deliver very little, Dataquest isn't one of those.
They provide a legitimate service that many people are happy with and this can be seen by the number of reviews that can be found.
They have already taught over 1 million students to start new careers and helped many to advance their current ones.
Training platforms like Dataquest make it very easy for people with no previous experience to improve their lives.
Without this type of online education, there would be very little chance of you learning a new skill in IT.
It's all very well taking similar courses on sites like EDX, Udemy and Coursera but those sites accommodate every feasible course you could think of.
Don't get me wrong there is nothing wrong with those sites because they provide good quality training.
It's just that Dataquest specialize in a specific IT role, Data Scientist.

Dataquest PROS and CONS
Here we have tried to highlight what we believe to be the important points of this Dataquest review.
Which should hopefully help you to decide whether Dataquest is for you or not.
PROS
Very Reasonably Priced:
We think it is very reasonably priced, you just have to look at the value you get.
For $399, you have access to a whole catalogue of courses, all related to data science.
That works out at around $1/day for all that training, now if you don't think that is value enough then we have no response.
Ok, you will be able to find cheaper courses but are they going to be any better?
Good Training Platform For Beginners:
The training platform is tailor-made for the complete beginner, in fact not knowing anything can be advantageous.
Because you won't have picked up bad habits by looking through YouTube videos.
Cancel Your Membership At Any Time:
You are under no commitment to outstay your welcome which means that you can cancel at any time.
So if you paid for the yearly membership you can cancel at any time but will only be charged for the number of months that you used.
No Software Is Required To Be Downloaded:
All the programming is done through their own server, which means you don't have to install any software on your computer.
There Is A Lot Of Interest Been Shown For Data Scient Interest: 
The image below is interest from people searching for the term Data Science and as you can see a very popular search term.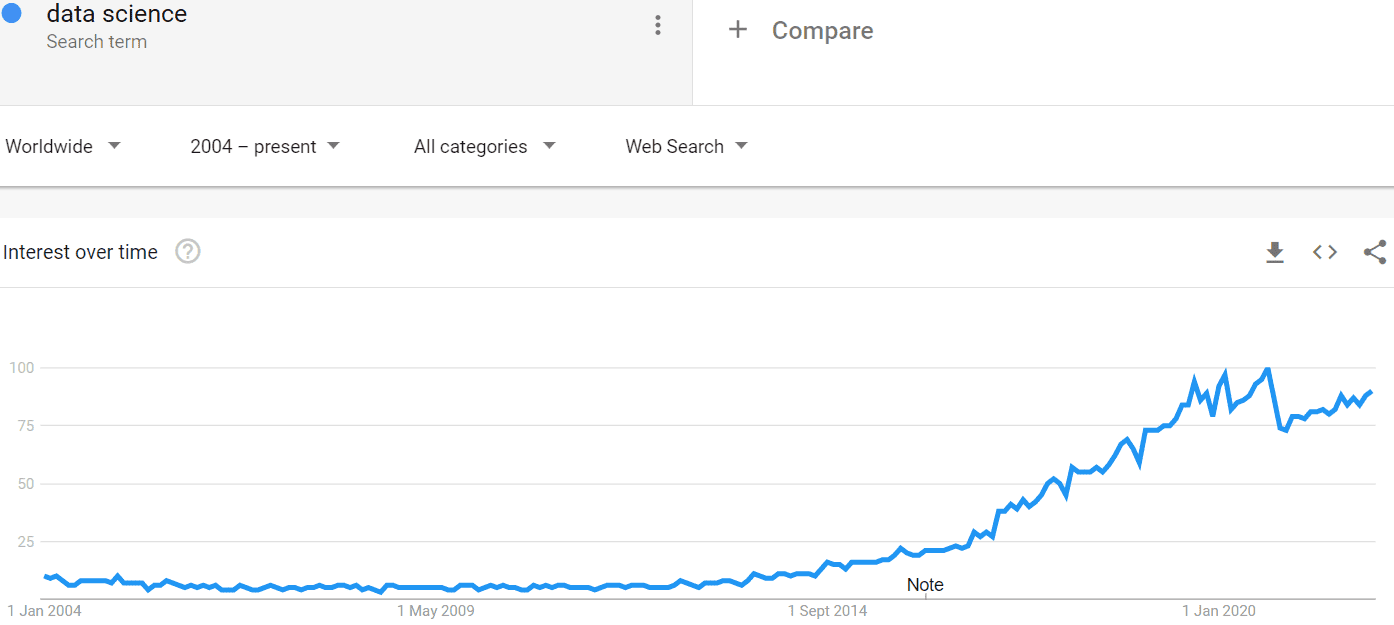 If you take a look on Jobserve then in the US alone there are well over 100,000 jobs available.
Dataquest Review – Final Thoughts!
The internet makes it so easy for everyone to learn whatever they desire.
The IT Industry is and has always been the number one industry where people are hoping to find careers.
Turning to schools and universities is no longer the number one option and besides.
Who doesn't prefer working from home and at their own pace which also takes away the pressures of studying in a classroom? I know I do!
Datacamp is up there as a contender for learning to become a Data Scientist but the training methods are very different.
Take a look for yourself as we have just recently written a review here.
If the 9 to 5 working week is not for you and you are looking for a way to earn 4, 5 and 6 figures a month.
Then we'd love to share with you what we do in the next section.
How we Make Passive Income Online?
Like I said earlier I spent many years as a freelance software developer which encompasses everything a Data Scientist would do.
It is just a fancy term just to split up the IT skillsets and make it look more specialized, that's all.
I turned to the internet because I had had enough of travelling and staying away from home from the family.
Don't get me wrong I did enjoy working away in other countries but the novelty does wear off and besides, it is a young person's game.
If you are interested then you might like to take a look at this training platform that I am a part of.
They teach affiliate marketing and the company is Wealthy Affiliate and they have been helping thousands succeed since 2005.
To become 4, 5 and 6  figure monthly earners with over 2 million that have joined since they were founded.
Take a look and see what you think, it won't cost you a dime to look and you won't even be asked for your credit card details either.
But you will not know if you don't at least take a look and besides if you don't like what you see or it isn't for you just call it a day.
Dataquest FAQ's
Is the membership fee worth it?
We believe the membership is more than worth it to get on the first rung of the ladders as a Data Scientist.
Some people we can see moaning about it being too expensive but you are always going to get that as people are still looking for FREE.
You have to invest in yourself if you want to give yourself even half a chance of bettering your lives.
Is The Certificate Recognized?
Unfortunately, the certificates are recognized in the real world however, they do tell any future employer that you have taken the course.
Besides, people do know of Dataquest and will probably approve of their training.
Does Datacamp Offer Any Free Courses?
Yes they do and that would be a good way of starting but if you are serious about learning a skill like a Data Scientist.
Then you will have to become a paid member to take full advantage of what Dataquest offers.
Do Some Of The Courses Require Any Previous Experience?
The courses are designed in a way that a complete beginner will find comfortable as they are graded.
Beginner, Intermediate and Advanced.
Of course, if you are a beginner then you aren't going to register for an advanced course although nobody says that you can't.
Can I Get A Job After I Have Taken A Course?
For everyone who completes the career paths and is ready to find a job, there is a Career Service that you can take advantage of.
This is available to premium subscribers so remember not to cancel your membership otherwise, you will not have access to this facility.
They will help you with your resume and portfolio and guide you in the right direction.
Feedback, Comments and Subscribe
If you are here then I must thank you for being so patient and we hope that you found this Dataquest review of interest and that you benefitted from it.
If there are any questions bearing in mind that I spent many years in software development then feel free to ask.
Any questions about going freelance then I am here to answer your questions.
Once again thank you and stay safe.