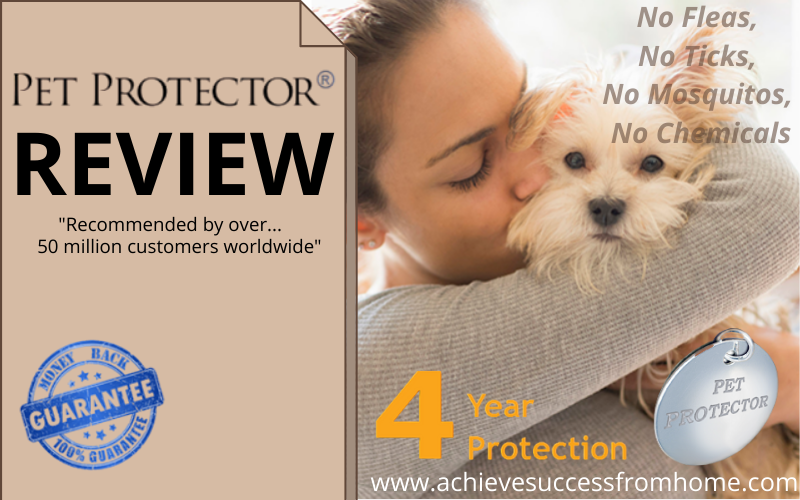 Welcome to this Pet Protector review.
We all love our pets and the last thing we want is to risk their health or even their lives on products that include chemicals that are supposed to help.
Pet Protector is a unique product that promises to protect your Pet from parasites, through what science calls scalar waves which according to the company is a safe non-chemical solution.
If indeed just by adding a disk to the collar works, then they are onto something really big.
Is there enough documentation or scientific evidence to prove that this product in fact works or is it all baloney?
There is a business opportunity that may be of interest and we will be going into that a little later.
I'm sure you have come across some Pet Protector reviews, but what you will find is that most of these will be from Pet Protector distributors trying to recruit you into their team.
However, we are not associated with Pet Protector and what you will get is a totally unbiased review so that you can decide on your own terms.
So let's dive in and see if this product is as good as they say it is.
---
[Affiliate Disclosure: This post may contain affiliate links which means I may earn a small commission if you purchase anything through one of the links. However, this will not affect what you pay!]
---

Product: Pet Protector
Parent Company: Goldstar
Location: Texas, US
Founder: Steven Williams JR
Website: www.petprotector.org
Product Description: Pet fleas, ticks and mosquito repellant disks, running as an MLM business model.
Cost to join: Initially it is Free to join although you will have to purchase products to show customers.
Price of products: $73.40, $544.70, $1987.00
Best For: Experienced network marketers with a love of animals.
Recommended: No
Summary: I don't have a problem with a non-chemical solution to protecting our pets, its the business opportunity that I have an issue with and when you realize that only the top 1%, more precisely the top .22% is where all the wealth goes then you should think again.
One of the reasons why companies are set up as an MLM business model, simply because the products alone will not make the owners wealthy.
Making money online is not easy but affiliate marketing is a tried and tested business model that works.

---
If you are sick and tired of SCAMS, Pyramid schemes, MLMs, recruiting, having to purchase stocks, haggling family, friends and customers. Looking for a proven method of making money online, then check out my #1 recommendation. 
---
Internal Summary and Navigation
---
What is Pet Protector about and who are the founders?

Pet Protector is a brand that is owned by the Goldstar Company who was founded in 2011.
They are a direct selling company that run their company under the multi-level-marketing business model.
They manufacture and sell a disk, which your pet wears on their collar to protect them from fleas, ticks and mosquitos.
They also claim the disk works for up to 4 years and is the only product of its kind and they offer a business opportunity for anybody who is interested.
The Pet Protector disks are manufactured in the UK, Germany and Switzerland with logistic depots located in Austria, Serbia and the UK.
Check out this short promotional video.
Who is Steven Williams JR
The Goldstar Company, which owns the product Pet Protector was founded by Steven Williams JR.
As the story goes…
His beloved dog died as a result of poisoning due to an anti-flea product, and whilst many of these products are still sold today, they were the only products available back then.
In fact, his dog died of liver poisoning due to the chemicals that were in the anti-flea product.
Stevens concern was such that he started to work on a solution to this problem investigating the effects of scalar waves on humans and animals alike which brought together scientists from Spain, Switzerland and Germany.
It took around 3 years to come up with a solution costing several million dollars and a few years later Pet Protector came to market.
---
Is Pet Protector a Pyramid Scheme?
Let's take a look at just what a pyramid scheme is.
The term pyramid scheme is given to a business where the members or affiliates are paid solely for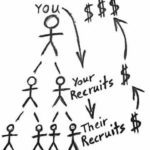 recruiting others into the scheme without any product or service to show.
Pet Protector is definitely not a pyramid scheme because it is possible to make money through selling the disks to consumers without recruiting.
However, if you were to join a business opportunity like the one at Pet Protector and wanted to make a living, then recruiting others into your team would be high on your list of priorities.
Straight out and out pyramid schemes pretty much do not exist nowadays, and the term used a lot today is "a pyramid in disguise".
A pyramid in disguise is just how it sounds, where a company would hide behind a product or service that had very little value or no value at all, whilst the emphasis would still be on recruiting.
This, unfortunately, is how many MLMs operate today.
---
Let's look at the Pet Protector Products
Well, actually there is only one product.
This is a product that initially took 3 years to develop with scientists from several other countries.
Pet Protector manufactures and markets a metal disk that you place on the pet's collar, and is supposed to protect the animal for up to 4 years from nasty parasites, such as mosquitoes, fleas and ticks.
Apparently, the animal has to be free of all parasites before attaching the disk.
According to their website, they claim to have helped over 50 million customers throughout the world.
The Pet Protector Disk Itself!
Made from a high-quality steel alloy that is charged with a combination of magnetic and scalar waves which is supposed to be triggered by the animals own energetic fields.
Nicola Tesla said that the universe was made up of magnetic and Scalar energy which in its lowest form is energy.   This came to light over 100 years ago.
If you can find the right frequencies then a combination of Scalar and Magnetic energies combined (which is what we see here) with the animal's energy field may well be able to protect it from certain elements.
That been said, scientific studies in this particular field are somewhat lacking.
Pet Protector claim that their disks are the greatest discovery to come out of the pet care industry.
According to Goldstar, who owns Pet Protector the disk is 96.67% effective, has no adverse effects and with no use of chemicals is 100% safe for your pets, humans and the environment.
Small studies covering a 4 year period, from 2011 – 2013 were carried out involving 22 animals, 88 in total in…
Argentina – 97.12%
US, California – 97.35%
Spain – 96.06%
Australia – 96.13%
Some of the animals did end up with parasites over that period which is understandable because it ain't going to stop all, 100% of the time.
What is interesting to note is the lack of testing by a 3rd party with a limited study that can be found on the Pet Protector website here.
The disks sell for $73.40 which includes shipping costs.
Pet Protector disks are claimed to…
Repel and protect from Fleas, Ticks and Mosquitos
Boost the immune system
Raise your pets energy levels
Improve your pets blood circulation
Check out what the PetProtector Club has to say in this short video.
---
Pet Protector Business Opportunity – What you need to know
Like all MLM business opportunities, there is a compensation plan which dictates how the affiliate or distributor is paid and we shall be discussing this further in this section.
---
How to become a Pet Protector Distributor
There are currently 3 different memberships that are available to become a Pet Protector Distributor.
Affiliate Distributor
Free with no credit card required
No monthly fees
Personal website and virtual back office
5% retail bonus
15% personal order discount
$50 bonus for the first 5 sales
The maximum amount of commissions monthly are restricted to $1,000
Manager at a cost of $544.70
Shipping costs included
No monthly fees
Personal website and virtual back office
Free sales software of 100 targeted website visitors
10 Pet Protector disks valued at $734.00
10% retail bonus
25% personal order discount
$50 bonus for the first 5 sales
By purchasing the manager package you can earn significantly more and can upgrade at any time. The maximum amount of commissions monthly are restricted to $5,000
Senior Manager at a cost of $1,987.00
Shipping costs included
No monthly fees
Personal website and virtual back office
Free sales software of 500 targeted website visitors
41 Pet Protector disks valued at $3009.00
15% retail bonus
40% personal order discount
$50 bonus for the first 5 sales
With the senior manager package, there are no limitations to the number of commissions that you are allowed to earn.
---
Remember, if you do decide to become a distributor and join the option 1 or 2 package, there are limitations on the amount you can earn.
There is no point in working your butt off if you joined option 1 when the monthly commission is capped at $1,000.
Just think if you managed to sell 100 disks which would amount to £7,344.00, you'd be losing a large chunk of the commission.
---
How to Make Money with Pet Protector
There are 2 ways that you can make money through this business opportunity.
Sell the products yourself and make a commission on the sale.
Recruit others into the business who'll become part of your team and make a commission on what they sell.
You are given an identical website to promote the product that everybody gets but just what you are allowed to change is unclear.
There are many ways to market the product to your prospective customers and one way that I have seen on their website is to use Facebook and create a Facebook Page.
This method is not something I would advise. You might pick up the odd person who might be interested, but you'll spend far too much time messaging people and getting nowhere.
I can recommend a training platform that would teach you all about marketing and if you are interested then you can read a review I wrote here.
---
Check out the Pet Protector Compensation Plan 
---
Are Pet Protector Distributors actually making money?
This is always a difficult one to answer as MLMs tends to hide this information and for obvious reasons too.
Since it is a known fact that only around .22% actually make any real money, then any income disclosure would highlight this and not something that they want broadcasting.
That said, between 50 and 70 per cent of distributors do not stay around long enough to see in their 2nd year.
---
What others say about Pet Protector
I'm a little surprised that we couldn't find a whole bunch of reviews coming from satisfied customers.
After all, there are supposed to be over 50 million customers worldwide that are using this product.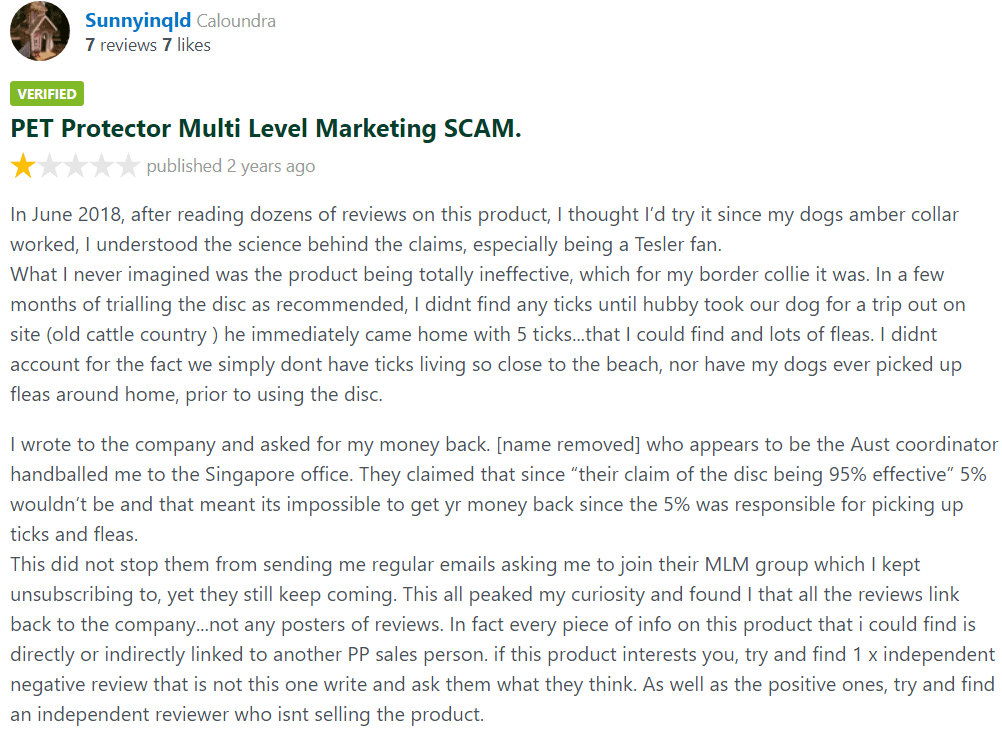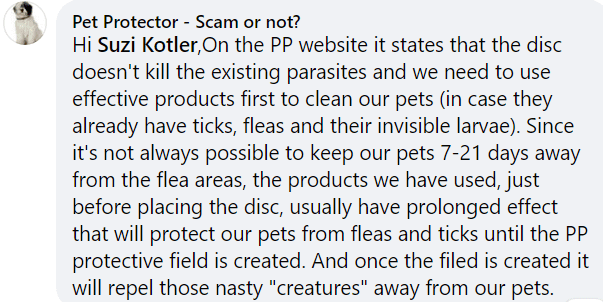 There's an interesting Facebook page which you can check out here
---
If you are new to network marketing then you might like to watch this 30-minute video which could save you a lot of time, money and headaches.
---
What I like about Pet Protector
I have to assume that what they are saying may well be correct but I don't see enough trials done on the product.
That it uses energy
I mentioned earlier that the universe in its truest form is just pure energy. It is everywhere and has intelligence, which many just will not believe.
Any health condition that we endure is caused by bad energy and all you have to do is replace the bad with the good.
There is a 100% money-back guarantee
This is always good and gives you confidence in the product
Over 50 million worldwide are happy customers
If this figure is correct then it does sound promising.
However, according to the PFMA(Pet Food Manufacturers Association) in 2017, there were 57 million pets worldwide.
Would seem a little on the low side considering there are 8 billion on the planet.
---
What I don't like about Pet Protector
You can have the best product on the planet but if you can't sell it what do you have? For sure you don't have a business.
MLM's are a tough cookie to crack
The real money earned in any MLM is in the top 1%.
Sorry but that is a reality.
Check out what the Federal Trade Commission has to say here.
Paid Advertising or PPC (Pay-Per-click)
One of the biggest hurdles you are going to find if you are new to all this is how to get customers to your website.
The quickest way is to pay for traffic, but unless you know what you are doing this can be very expensive and with no guarantees that you will get a sale or any interest for that matter.
This business doesn't belong to you
A hard one to swallow, but what happens if/when the business closed down?
MLMs are closing down all the time and that would mean your business would close as well.
Wouldn't it make more sense to build your own business?
Where are the customer reviews?
For a customer base of over 50 million, I would have thought they would be reviews all over the internet, but they aren't.
---
Is Pet Protector a SCAM?
Pet Protector is not a scam.
They manufacture and sell a product that according to their website, has been well received by over 50 million customers worldwide.
Now if that was true then where are all the customer reviews and why aren't these customers shouting from the rooftops?
Ok, you can find a few reviews here and there but these are from Pet Protector distributors, not real customers.
I have concerns about the lack of scientific trials. What do you think, trials on a total of 88 animals in 4 countries over a 4 year period? Is that enough?
There is a business opportunity but one that I wouldn't recommend as everything is based on just the 1 product.
---
Is Pet Protector a Worthy Business to get involved with?
Well, is there a business here and is it something you'd be prepared to take on given the facts are there for everyone to see?
The top 1% is where all the money goes.
99% of affiliates who join an MLM do not earn enough to replace a 9-5 job.
Most distributors will end up losing money.
50 – 70 per cent of members will leave in their first year.
Would you say that a study with 88 animals in 4 countries over 4 years was enough to convince pet owners that this product did what was said on the label?
Like most MLMs, the compensation plan is set as a pay to play!
The more you pay for the membership the more you earn, but the commission rates should always be determined by the sales performance and not how much someone is prepared to pay to join the business.
MLMs for me just don't do it, I have tried them in the past and made absolutely nothing.
If you are serious and still looking for a business opportunity I can recommend affiliate marketing.

---
Feedback, Comments and Subscribe
Hope you enjoyed this review and that it answered most if not all of your questions.
If there is something that I have missed out or something you'd like to add then please put all your questions down in the comments section below,
Why not show a little love and help others by sharing on social media.
Until next time, stay safe.