Hey Guys, welcome to the Investors Underground review
Trading, in general, has become very popular in recent times and maybe this has had something to do with the lockdown or even the film.
Who knows, but one thing for sure is that there is an abundance of training platforms and courses that you can now find.
Investors Underground is a membership site that has been on our radar for a while now and causing a bit of a stir.
You might have seen their marketing campaigns on social media and are looking for more information.
Whether you can make money on the say-so of Investors Underground or even if Investors Underground is a scam.
In the next few minutes, this and more will be revealed so that you are in a better position moving forward.
But, before we get started we'd just like to mention that we are not associated with Nathan Michaud or Investors Underground.
Meaning that we are not getting paid for this review and rest assured that what you will get is an honest unbiased account.
With that said, let's begin.
---
[Affiliate Disclosure: This post may contain affiliate links which means I may earn a small commission if you purchase anything through one of the links. However, this will not affect what you pay! 
---

Product: Investors Underground
Founder: Nathan Michaud
Website: www.investorsunderground.com
Product Description: Trading education platform
Cost to join: $297/month or $1897/year
Recommended: No
Summary: Truth be known, I think we would all like to be traders but it is only the few that actually make it as a living.
That figure is in the upper 10% but hey don't let that stop you because everyone has to start somewhere.
Take, for instance, let's say that there were 1 million traders, then that might mean there were 100k actually earning a living.
When you look at it like that the 10% doesn't seem so bad, right?
However, day trading is a different kettle of fish which is what is taught here in Investors Underground.
You require a minimum investment to trade with and according to the SEC, that figure is $25k otherwise you'll find restrictions when you trade.

---
Investors Underground – Contents
---
What is the Investors Underground About?
Investors Underground has been around for a while now and is one of the first trading chat rooms to hit the internet.
Launched in 2008 by its founder, Nathan Michaud it started life as a chat room for traders or would-be traders and I don't mean that with any disrespect.
Back then Investors Underground was known as "Investorslive".
Over the years it has evolved to become an all in one trading education platform which is proving to be quite successful.
It does come as a membership site and might be a little too pricey for most budgets.
There are a few mixed feelings though, which can be seen over the internet if you research the product enough.
Even where you'll find some dirt on Nathan like when he got involved in some pump and dump scheme and was caught out by the SEC.
But you know what, everybody has history and if you look deep enough you will find something but unfortunately it is there for life on the internet.
This happened in 2009 so around the time that he launched Investors Live.
Do you get value for your membership or should you start your trading education somewhere like Udemy?
Keep reading to find out.
---
Who is the founder of Investors Underground?
Nathan Michaud is the founder of Investors Underground (previously, InvestorsLive)
He started his trading career whilst in his first year at college way back in 2003 which was inspired by the success of his uncle.
Like anything new, it's all about trial and error but you have to go through this stage in order to get through to the other side.
Success is never going to happen straight away and Nathan found this out to his dismay which accounts for his many ups and downs.
At one point apparently, he was up $150k and he was told to move his motorcycle as it was parked illegally.
Before he moved his motorcycle, he made sure that his trades were doing ok and by all accounts in the 10 minutes it took.
His investment had lost $90k, now if indeed this did happen then he must be the unluckiest person on the planet.
Or, was it just a story to help him promote his products and services at a later date. We'll leave that for you to decide.
One thing Nathan prides himself on is his persistence and not giving up and that is what you need to succeed at anything.
At the time, he decided to create a blog called InvestorsLive where anyone could exchange their thoughts on trades and it was a way for him to document his trades.
The website InvestorsLive is still active and will redirect you to Investors Underground.
Nathan has a very active YouTube channel with over 144k subscribers and nearly 300 videos packed with free information and definitely worth a look.
He is also one of the founding members of Traders4ACause, a charity for giving back which is always a good thing.
---
What do you get when you join The Investors Underground?
Daily Watch Lists
Stocks
Each day you are provided with the best-performing stocks for the next days trading which is sent out to you the night before.
This is to give you plenty of time for the forthcoming markets and to allow you to make a game plan.
Game Plan and Rationale
Each daily list comes with game plans, stock charts and raitionale to give you a heads up, which shows you the setup and game plan.
This will enable you to be prepared and to understand why these stocks are been traded to take you closer to becoming self-sufficient.
Active Chat Rooms
Chat rooms are what Investors Underground prides themselves on and what started the ball rolling when IU started way back in 2008.
There are literally thousands of members communicating within these chat rooms sharing trades and ideas.
You have several chat rooms, with Momentum, their main chatroom with rooms focused on Penny Stocks and Swing Trading.
Trade Recap Videos
Trade Breakdowns
Every week they release several trade recap videos that go into detail about the trades that were traded in the trading week.
Everything is broken down to show you what the game plan was that they decided upon, the things that went right and the things that went wrong.
Video Lessons Library
There are over 1000 videos stored in a library that everybody has access to covering 100's of hours of content to educate you as a trader.
These videos could be a godsend for new members that lack trading knowledge and find it difficult to follow the chat room conversations.
These videos cover real trading examples.
If you can't find what you are looking for here then check out their YouTube channel.
Monthly Q&A Webinars
They host several webinars every month to ensure that everybody is on the same page.
Here you can have any questions answered and discussions on trading concepts, previous trades and so much more.
These are a way to get all the members together and more of a get together to expand each and everyone's knowledge.
All the webinars are stored online so that any member can access them at any time.
Courses In Addition To The Membership
In addition to the membership education, there are three individual courses that you can purchase separately for around $1000.
Textbook Trading: The all in one trading course that they claim will teach you everything you need to know about trading in 8 hours, I doubt that very much…
Swing Trading: This is the ultimate Swing trading course, learn everything to build a good trading foundation which includes strategies, charts and much more…
Tandem Trading: According to the IU this is the ultimate day trading course. A guide to developing consistently profitable trade habits. This DVD comes with 14 hours of trading action. This includes probability chart patterns and more…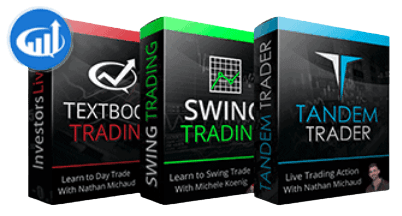 Monthly subscription, $1297 then 2nd month onwards $297/month
Quarterly subscription, $1697 then 2/3/4 quarter $697/quarter
Yearly subscription, $2697 then recurring yearly payment $1697
---
How much does it cost to join Investors Underground?
As of this review, there are three membership options that you can take advantage of.
Monthly @ $297 which equates to $3,564/year
Quarterly @ $697 which equates to $2,788/year
Yearly @ $1897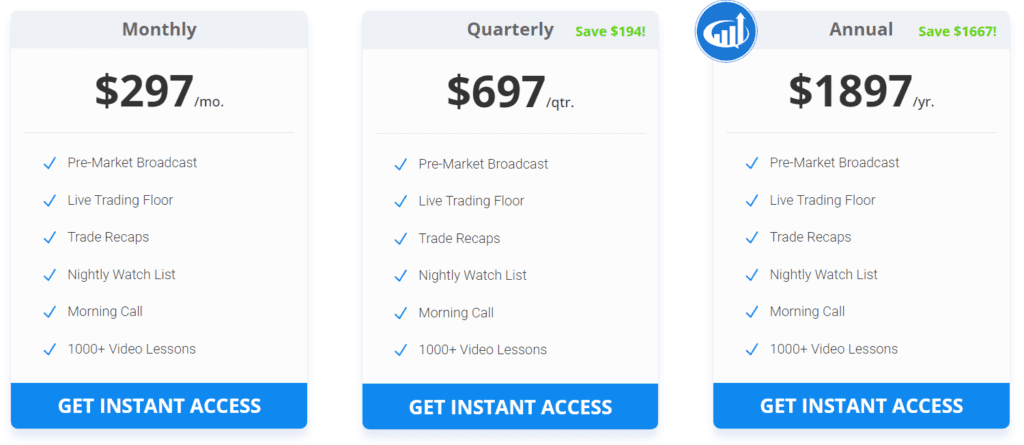 There is no refund policy and if Investors Underground interests you then it might not be wise to pay for the quarterly and annual membership.
---
The Investors Underground FAQ's
Is The Investors Underground Worth The Money?
There are mixed views and the ones that are positive are probably from newcomers to the trading world who really haven't the knowledge.
We feel that you would be better off seeking out another course, maybe on Udemy to at least get some knowledge first.
Can The Membership Be Paid In Instalments?
There are no payment options and therefore the full amount will have to be paid upfront.
Does Investors Underground Come With A Refund Policy?
Unfortunately, there is no refund and we see this as a big red flag.
Is the product Owner Legit?
There are plenty of reviews around that praise Nathan as a trader but there is no way of proving those claims.
Most of those reviews are from affiliate marketers actually promoting Investors Underground.
We mentioned that he had a bit of an issue with the SEC for a pump and dump scheme.
What Happens If I Want To Cancel My Membership?
You can cancel at any time which would really only apply to the monthly subscription.
Cancelling the quarterly or yearly would mean that you might still have some time left on your membership.
Are They Any Alternatives That You Could Recommend?
There are plenty of other alternatives and if your budget won't stretch to the Investors Underground you might like to take a look at…
---
Is the Investors Underground a Scam?
We found more than enough issues with Investors Underground that should tell you to not get involved.
Like, Nathan Michaud is a convicted felon who was found out by the SEC for a pump and dump scheme in 2009 and find $100k.
About the time that he brought Investors Underground to the market.
We noticed that the 128 reviews that we could find on TrustPilot are all reviews for 2021.
Don't you find this a little strange when IU has been active since 2008? Why aren't they any reviews pre 2021?
The membership fees are extreme when it comes to a trading education platform and with no refund policy in place either.
Some of the training that you would be paying for that you can find on the IU platform can be found on their YouTube channel.

" Michaud said, "90 per cent of traders fail, and without a proper plan and community, you're on your own. Don't trade this market alone!"
This implies that you can't succeed unless you have a good community behind you but that community is going to be full of newbies.
We couldn't verify any of the trader's backgrounds that are part of Nathans team.
Here's some more interesting reading that you might like to look at.
So, tell me do you think Investors Underground is a scam or is it legit?
---
The Investors Underground Pros and Cons
We see this all the time where so-called traders claimed to have had success and then they create a product or service to help others.
If these so-called traders were doing as well as they say they are doing, then why wouldn't they focus all their efforts on trading?
The reason is simple, there is a lot more money to be made in selling their own products and services.
PROS
The Business Is Well Established:
Businesses like this usually fall by the wayside after just a few years but Investors Underground has stood the test of time.
Community Seems To Go From Strength To Strength:
You can find thousands of members from over 55 countries throughout the world.
CONS
There are many similar membership sites and courses that offer the same type of training which are a fraction of the costs here.
In fact, most of the training that you can find on IU can be found for free on YouTube and if you look carefully, their own channel as well.
This Membership Is Not For Beginners:
This is not for complete beginners and we would suggest finding a course to at least get some background knowledge first.
There Is No Refund Policy:
This is unusual and we see this as a big red flag. This sort of forces you to not go all in but even the monthly subscription is overpriced as well.
We have mentioned earlier that Nathan was involved in a shady scheme and caught out by the SEC.
Maybe this was the reason why he decided to come up with the idea of Investors Underground.
Reviews On TrustPilot Look Suspect To Say The Least:
Investors Underground has been operating since 2008 and the reviews that you can see on TrustPilot are all for 2021.
Now, I don't know about you but that does look very suspect.
What do you think?
There Are No Official Trade Alerts At Investors Underground:
Usually, you can find trade alerts but here at IU there are no official ones, instead, you can find trade alerts from the thousands of members.
Most of these members will not know what they are doing.
---
The Investors Underground Review – Final Thoughts!
We see many reviews stating that the Investors Underground is one of the best trading platforms online and these are all biased reviews.
They certainly haven't researched Investors Underground as we have otherwise their outcomes would be different.
The reviews that you can read on their website are all from members who are having success and how can that be even possible.
Not when over 90% of traders actually lose money.
Day trading stocks have a minimum investment requirement and this is set by the SEC at $25k.
We have spoken with Investors Underground and they tell us the minimum is $5k.
Unless you have a minimum investment of $25k there will be restrictions on your weekly trades.
To get started then you are talking between $5k – $10k according to IU.
Mind you all will can do is report the facts as we see them and the rest is up to you.
---
How we make a Passive Income Online
In 2017 I had no idea what affiliate marketing was.
Once I learnt about it, it just seemed like a great business model that can grow over time using the power of the internet.
So I tried to figure it out by myself… that got me nowhere fast.
Then I fell for some terrible online scams.
But eventually, I found Wealthy Affiliate. It teaches long-term proven strategies to build an online business with all the tools & support needed.
Hope you guys enjoyed this review and you got some benefit from it.
If you have anything to add then don't be shy and drop us a line below in the comments section.
Thank you for reading and stay safe.